Hanuman Jayanthi

Hanuman Jayanthi is a festival which is celebrate all over India. Chanting Hanuman Chalisa is good on this auspicious day.


Hanuman Jayanthi

Hanuman Jayanthi is an important festival for Hindus. The birth of Hanuman, the Monkey(Vanara)God is celebrated as Hanuman Jayanthi, widely all over India especially in North India. Hanuman is known as the son of Vayu (Air) and Anjanai. That's why he is also known as Anjaneya and Vayu Putra. Hanuman Jayanthi is celebrated during the month of Chaitra. All of us know that Hanuman is a dedicated devotee of God Ram. During this Hanuman Jayanthi, we can see the devotees since early morning going to the temples to worship him. Hanuman is known as for strength and energy. Hanuman is worshipped as a deity with magical powers who can conquer the evil spirits. During this Hanuman Jayanthi, it is very good for our life to chant Hanuman Chalisa as it brings good luck and the evil spirits will never come to us. It is advisable that not only during Hanuman Jayanthi, chant this Hanuman Chalisa on Tuesdays and Saturdays. In the western part of India, especially in Maharashtra, Hanuman Jayanthi is celebrated in full moon day in the month of Chaitra. During this day the spiritual discourses started at dawn. During the sunrise the spiritural discourse is stopped and Prasad is distributed because Hanuman was born at Sunrise. In some temples they are organize bhajans, kirtans etc., during this day.

In the temple devotees apply tilak of Sindur to their foreheads from the Hanumans body, because it is considered to be good luck. There is a short story for why the body of Hanuman is covered with Sindur in temples. God Ram's wife Sita was applying sindur to her head and when Hanuman asked about why she is doing so, she said that this would ensure a long life and her love for her husband Rama. Hanuman tarnished his entire body to prove that how much he loves Ram and for Ram's immortality. That's why in temples the body of the Hanuman covered with Sindur.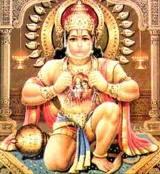 In the Southern part of India, like Tamil Nadu and Kerala, the Hanuman Jayanthi is celebrated during the Tamil month called Margazhi (Decmber 15 to January 14). According to south they celebrate this Hanuman Jayanthi during this time because they believe that Hanuman was born on Moola Nakshatra and also in Amavasya during the Tamil month of Margazhi. During this day in Chennai, in Hanuman temples priests are doing lots of poojas and archanas on behalf of the Hanuman devotees. In Chennai Anjaneya temples people also orange for special poojas for their good health and life. During Hanuman Jayanth in Chennai Temples are crowded with devotees to worship God Anjaneya, shows how much this Vanara God took an important place in their life by making all their wishes come true.