Read Thuglak Tamil Magazine (Chennai Based) Free Online

Thuglak is one of the best selling Tamil news magazines in Chennai. Read more about Thuglak Tamil Magazine including Thuklak Tamil bulletin editors, Thuglak Magazine annual subscription and so on. Read Thuglak Tamil Magazine Free Online from the official website of Read Thuglak Tamil Magazine (Chennai Based) Free Online.


Thuglak Tamil Magazine from Chennai, Tamilnadu

Thuglak (Tamil: துக்ளக்) is one of the most read newspapers in Chennai. Actually Thuglak Tamil Magazine is a news magazine published on an weekly basis. The founder of Thuglak Tamil Magazine is Cho Ramaswamy who is a very well known person in Chennai. The magazine was first published on the beginning day of month Thai (Tamil: தை) which marks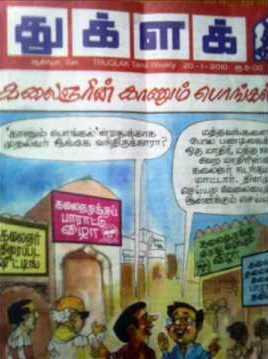 the traditional beginning of the harvesting month in Tamilnadu. According to the Gregorian calendar the date was January 14, 1970. Cho Ramaswamy actually had a vast experience in the field of print journalism and he has been editing the Thuglak Tamil Magazine since its dawning days. Since then he has been relentlessly serving as the editor of Thuglak Tamil Magazine Chennai.

The nomenclature or name of the Thuglak Tamil Magazine as well as the mascot of the same was appropriated from the name of the famous Sultan of Delhi, Muhammad bin Thuglak. In fact Cho Ramaswamy, back in 1968, had staged a theatre on that Sultan. Later he made a film on the same in 1971. The plot of both of them was socio-political satires that unfolds the trajectory of the lives of a small band of idealists - their successes and failures - taking over the charge of administrating the Government of India as new or resurrected Muhammad bin Thuglak.


Thuklak Tamil Magazine Editors

The main interest of the Thuklak magazine in Chennai is its celebrated front cover cartoon pertinent to some or other issue of the contemporary social, political and public scenario. The cartoons by Sathya is also a major point of interest of the readers. The team of the Thuglak Tamil magazine consists of: Cho (Editor), Swamynathan (publisher), Udhaya (Manager), Madhalai (senior sub editor), Sathya (Sub editor), Brakath Ali(sub editor), Vasanthan Perumal (special correspondent), Ramachandran @ Durvaasar (sub editor), S.Ramesh (Chief reporter), S.J.Idhaya (south reporter), S.P.Sanmugam(west reporter), P.J.Ramamoorthy(darmapuri reporter) (ref: Wikipedia).


Read Thuglak Tamil Magazine (Chennai Based) Free Online

You can Read Thuglak Tamil Magazine (Chennai Based) Free Online from the official website of Thuglak Tamil Magazine. Read today's Thuglak Tamil Magazine online e paper at Thuglak Website. If you want to receive the magazine, please fill in the due form for Thuglak Tamil Magazine annual subscription and you will be able to read everything from that famous magazine.