Holi Hungama in Pune with DJ suketu and ranvijay Sentosa Resort venue tickets price details

Details of Holi hungama season 6 at Sentosa Resort & Water Park in pune on 20th march 2011. Get a chance to date with MTV VJ and roadies fame Ranvijay. Find how and where to get tickets and entry passes for Holi Hungama celebrations in Pune, Free passes and tickets for Holi Hungama event at Sentosa Resort & Water Park in Pune, venue contact details address location of Holi events celebrations concert in Pune


Details of Holi Hungama 2011 event celebration Sentosa Resort in Pune

venue address location of Holi celebrations at Sentosa Resort & Water Park in Pune:
The venue for Pune Holi Hungama event celebrations is Sentosa Resort & Water Park, which is 1 Km before the Mumbai.

Date and timing of of Pune Holi Hungama event live concert : You can witness Holi hungama season 6 celebrations at Sentosa Resort & Water Park in Pune on 20th March 2011 from from morning 9:00 A.M to evening 7: P.M. so it's a 8 hour event and you are going to have a great time at Holi Hungama season 6 celebration at Sentosa Resort & Water Park. So just be there.

Entry charges for Holi Hungama celebration at Sentosa Resort in Pune: If you are looking for Tickets and passes of Holi event at Sentosa Resort in Pune then we are here with the complete information about Pune Holi Hungama season 6 celebration to be held at Sentosa Resort in Pune. The entry charges or ticket price for holi celebration at Sentosa Resort is Rs. 400 per head. And this is not much as compared o full day entertainment you are going to have there.

Contact details for ticket booking of holi celebration at Sentosa Resort in Pune:
To book ticket and to get pases of holi hungama celebration at Sentosa Resort in Pune you can call 7507068906 or visit www.holihungama.ayojak.com


Highlights Attraction of Holi Hungama events at Sentosa Resort , Pune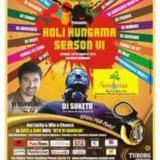 If you are looking to celebrate this holi dancing on the dance flor to the tunes of DJ then Holi Hungama season 6 celebrations at Sentosa Resort & Water Park just for you. Also you must itching to know where in pune is Holi celebration with Dj suketu and VJ ranvijay happening. So putting all your queries to an end about Holi Hungama celebration with Vj Ranvijay in Pune, we are here with all the answers.

Not only DJ Suketu and VJ Ranvijay of Roadies fame will present an d performing at Hungama events at Sentosa Resort , Pune but there are other celebrities as well who will perform during Holi Hungama season 6 celebration in Pune. Some of the other famous celebrities present in Holi Hungama eventat Sentosa Resort , Pune are:

Ranvijay Singh of Roadies fame. Curently he has also acted in some movies like Badmassh company etc.

Dj Vaggy

SpinMaster KAZ

Dj Mayank

Dj Vispi

Dj Abhinav

Dj Sky

Dj Abhishek Mantri

Dj Pravin

Dj Rackish

Dj Sunny

Dj Abhishek

ScratchMaster Monty

Apart from hot and happening music from above DJs other attraction at of Holi events at Sentosa Resort is:

great Flying Sound Setup

Biggest Water Park in Pune so you can adventure with water

Thandai & Bar Counters are also available

Dhol Tasha & Live Performance of various DJs mentioned above

Organic Colors to take care that your skin is not harmed

Live Cricket Score Updates for the cricket buffs, as India will be paying its final league match on 20th March.