Varun Aaron Profile and biodata of Indian, Delhi daredevil player from Jamshedpur, Jharkhand

Find the complete biography, profile and cricket career records of Varun Aaron, the fast bowler form Jamshedpur, tata, Jharkhand, who is now playing for Indian Cricket team, Delhi daredevils in IPL 2011. You can also find address and wiki of Varun Aaron here


Biodata, Cricket records and wiki of Varun Aaron Indian Cricket team player from Jamshedpur, Jharkhand

We are here with the complete profile of Varun Aaron, delhi dare devils player form Jamshedpur Jharkhand. Varun Aaron is yet another fast bowler form Jamsherpur (Tatanagar) in Jharkhand, who is going to go places. Varun Aaron is one of the many players form Bihar and Jharkhand playing in IPL. It is not just IPL, you can now say Varun Aaron Indian Cricket team PLayer is new player from Jharkhand to be selected in Indian Cricket Team. You can just imagine the amount of talent he has from the fact that he has been parrt of Australian Centre of Excellence, which has given us many sporting great, Ricky ponting, Brett Lee, to name a few. Varun Aaron home town is Jamshedpur (Tatanagar) in Jharkhand.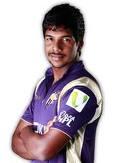 Varun Aaron age is 21 years.
Birth date of Varun Aaron is October 29th 1989

Address of Varun Aaron: Varun Aaron was born and brought up in Jamshedpur (Tatanagar), Jharkhand.

Teams for which Varun Aaron has played
Varun Aaron has played for teams like Indian Cricket Team, Australian Centre of Excellence,Delhi Daredevils, Jharkhand Under-19s, Kolkata Knight Riders
Full name of Varun Aaron: Full name of Varun Aaron is Varun Raymond Aaron.

Bowling Style of Varun Aaron: Varun Aaron is a Right arm Medium fast bowler Bowler.
Batting Style of Varun Aaron: Varun Aaron is a Right handed batsman


Cricket career and records of Varun Aaron

Twenty 20 career record of Varun Aaron: Varun Aaron made his Twenty 20 match Debut in match between Jharkhand v Tripura at Dhanbad, October 20th in 2009. In his debut match he took wickets for 6 runs in 2 overs. In his Twenty 20 career he has taken 6 wickets in 7 matches. What is impressive is his economy rate which is less than 6. And maintaining the economy rate of below 6 in Twenty 20 match is very good job.

First Class career record of Varun Aaron: Varun Aaron made his First Class Cricket Debut in match between Jharkhand v Jammu & Kashmir at Ranchi, Nov 3-6, 2008, where he took 4 wickets in the match and made useful 27 runs in first innings. In his entire first class career, Varun Aaron has taken 25 wickets in 11 First class matches. His best bowling figure is 5 wickets for just 17 runs. Not only this, he has scored 258 runs in 11 first class matches., with best of 72 runs, which shows , he can bat a bit.


Varun Aaron has even played 2 One day Internationals, taking three wickets on his debut match against The England cricket team. Not only this He was also the part of third test match against West Indies cricket team which was also his debut match in test cricket. Currently Varun Aaron is in the list of probables who will be touring Australia in December 2011.

Price of Varun Aaron in IPL 2011 Varun Aaron was purchased by Delhi Daredevils for a price of $10,000. But According to me, Delhi daredevils have got a good catch in this amount.

So, Varun Aaron would sure make a name for himself in Indian premier league season 4. If he gets his chance, you will surely see, another player from Jamshedpur, Jharkhand making us proud. People who don't know should know that, Varun Aaron is fastest bowler in India. He can bowl at more than 150 K.m per hour speed, which is as quick as Brett lee or shoiab Akhtar. So just watch all the Delhi dare devils matches in IPL 2011, as Varun Aaron can get a chance any day.