Sonepur Mela, cattle fair in Bihar: highlights, history and attractions

History, highlights and attractions of sonepur cattle fair (sonepur mela of Bihar) can be found here. Sonpur Mela is the biggest cattle fair of Asia and it is celebrated in the month of October-November. There are many facilities like swiss cottage for foreigners or big people for them to enjoy the celebrations of Sonpur Mela with all the facilities. Haathi Bazaar in sonepur mela is the main attraction.


The Sonepur Cattle Fair or Malegaon Mela or Sonepur Mela or Harihar Kshetra Mela, whatever you call it, is the biggest cattle fair of Asia. It is held on Kartik Poornima (the full moon day) in the month of October-November in Sonepur, Bihar and it lasts for about 1 month.


Highlight, attractions of Sonepur Mela in Bihar

Each year lakhs of people visit this Sonepur mela in Bihar, and it the number of people is highest on Kartik Purnima day (October-November) when the festival opens. On this day, people take a dip in river Ganga and do puja at nearby Hariharnath Mandir. During the festival it looks like a whole canvas town has settled in mango groves that grow in these neighboring villages. The tents here contain everything that a person can need like furniture, servants etc.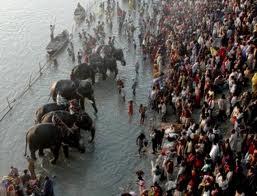 You can find animals from all breeds of dogs, buffaloes, donkeys, ponies, Persian horses, rabbits, goats, camel, birds etc. There is one Haathi Bazaar in sonepur where elephants are sold (even though not legal). You can never forget the scene of fully decorated elephants up for sale. Even Indian Forest Department purchases elephants from here. You can see culture and traditions of the state of Bihar in this Mela. You can see, local entertainers showing their music, dances and selling special cuisines from Bihar.
Stalls for garments, weapons, furniture, toys, utensils, agricultural implements, jewelry, handicrafts etc can be found.

Swiss cottage in sonepur mela is another attraction for foreigners. It has all the facilities and comforts like continuous power supply, bathrooms with geysers etc. The walls of these cottages are decorated with Madhubani paintings, which is famous throughout Bihar. Since Sonepur is situated at the meeting place of Ganges and Gandak, so this place is also of religious importance rather than just being the biggest cattle fair in Asia. So people also come here to take a holy dip at the convergence to 2 rivers and pray at the Hariharnath Temple.


When is Sonepur Mela 2012

Sonepur Mela 2012 start dates is 1st November 2012 till 9th December 2012. The peak for Sonepur Mela is for the first 10 to 15 days from the day the mela starts. 2012 Sonepur Mela in Bihar will be organized by Bihar Tourism department to attract more tourists to Bihar. Sonepur cattle fair in Saran district of Bihar, was earlier organized by the district level fair committee.

Some of the improvements, which you may notice in Sonepur Mela are:

Separate enclosures each for animal market, local entertainment and classical dances.

More attractive designing of sonepur fair.

No vulgar dances in the Sonepur mela. It will be replaced with regional folk artists from states like Uttar Pradesh, Madhya Pradesh, Odisha and West Bengal etc.

Swiss cottages at sonepur mela would now be set up by the Bihar State Tourism Development Corporation (BSTDC) with more facilities.

Free yoga classes and elephant ride for those booking cottages.

Internet kiosks.

Wide variety of food.



How to reach Sonepur mela (cattle fair) in Bihar

If you have never been to sonepur and want to know how to reach sonepur, then you should not worry, because it is well connected by road to other cities. If you are coming to sonepur fair from outside Bihar, you can come to Patna first which is well connected by air, rail and road to the other parts of the country and then come to sonepur, which is just 25 kilometers from Patna.You can also visit http://sonepurmela.org.in/ for more information.