Hanuma Vihari, player of Sunrisers Hyderabad - Profile, wiki biography and cricket records

Hanuma Vihari who took the price wicket of Chris Gayle on his very first ball in IPL 2013, is the rising star of Sunrisers, Hyderabad. Here is the profile and biodata and detail information of his cricket career.


Hanuma Vihari player of Sunrisers Hyderabad is from a small place Kakinada, Andhra Pradesh and has been selected as uncapped player from Sunrisers Hyderabad for the first time in IPL 2013.


At merely 19 years old playing his first IPL in the year 2013, he took the wicket of giant Chris Gayle in his very first ball endorsing his name in IPL history. Hunuma Vihari started his first class cricket career at an age of 16 years playing for Hyderabad as an all rounder.


Personal information and cricket records of Hanuma Vhari

Date of birth - October 13, 1993 thus current age of Hanuma Vihari is 19 years.
Place of Birth - Kakinada, Andhra Pradesh.

Batting and bowling style - Right handed middle order batsman and right arm off break bowler.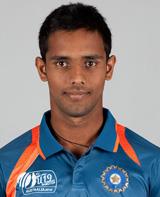 First-class debut of Hanuma Vihari was in the match Jharkhand v Hyderabad (India) at Ranchi on Nov 10-13, 2010. Till date he played 15 first class matches making 743 runs in 23 innings with 1 century and 2 half centuries and highest being 191 runs and took 4 wickets.

Before his first IPL match he played 8 T20s and made 106 runs with 34 highest and took 5 wickets.

Being the young blood, Hanuma Vihari has a long career ahead for Hyderabad, Sunrisers as well as for India in future.