Gaumukh Temple, Mount Abu, Rajasthan

Gaumukh temple is one of the important tourist attraction of Mount Abu having a religious importance and beautiful architect. See details about the temple, how to reach and other information.


Mount Abu is one of the popular tourist destination in Rajasthan. There are several spots for tourist attraction, out of which Gaumukh temple is one which is not only worth to see for the architect but is also a place of popular for religious pilgrimages and meditation. Beautiful and scenic surrounding, walking excursion adds the fun for tourists.


Importance of Gaumukh temple, Mount Abu, Rajasthan

The temple is created on the place which is believed that here Vashish muni performed a yagna which created the four major Rajput clans. There is an agni kund in which hawan (sacrificial burn) was done by Saint Vasishtha to create Rajput clans. The place was once a meditation place for saints and now is a popular tourist attraction.


Attractions of Gaumukh temple, Mount Abu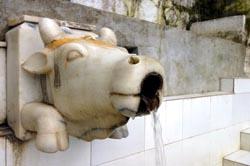 The main attraction is the temple itself, apart from that the agni kund has great holistic importance. Near to the temple there is a rock which is cow shaped and a spring is emerging from the mouth of the cow. Near to the rock a huge marble statue of cow Nandi is present which is supposed to be Lord Shiva,s vehicle. There is statue of Saint Vasishtha along with Lord Rama and Krishna.

How to reach Gaumukh Temple, Mount Abu
Gaumukh temple is about 5 Kms from Hanuman temple located in the wild valley and can be reached by 700 steps climbing downwards.


Do,s and dont,s at Gaumukh Temple, Mount Abu

As the temple is surrounded by thick forests, so it is not recommended to visit in rainy season or in dark, however a local guide must accompany if at all it is visited during that period.

Leather clothing, shoes and other leather articles are not allowed and is kept at the entrance of temple.