Various Tourist Attraction in Mumbai

There are many tourist attraction in Mumbai that are very attractive to view and moreover this article provides you information about various tourist attractions in Mumbai.


Tourist places in Mumbai

Mumbai is not only known for its commercial trade but also for tourist attraction. Mumbai consists many famous tourist spots which are of historical importance. From historic buildings and museums to the worlds popular beaches are located in India's commercial capital Mumbai. It is a cosmopolitan city with many tourist spots which plays major role in India's economy. The Gateway of India, the Elephanta Caves, Prince of Wales Museum, Marine Drive, Haji Ali's Tomb, Victoria Terminus, and Film City are the most famous tourist spot that all must visit. These places make Mumbai famous all over the world.


Gateway of India in Mumbai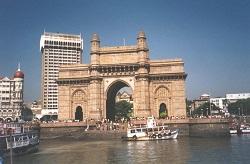 It was built in 1919 to remember and signify the arrival of King George V and Queen Mary for the Delhi Durbar in 1911. It is a graceful ceremonial archway built on the shore of Arabian Sea. it is situated in a place called Apollo Bunder and it was opened to public in the year 1924.The gate way of India has a great historical significance because after independence the British troops left India and boarded their ships through this gate way. To add to its significance the famous TAJ hotel is present near the gate way.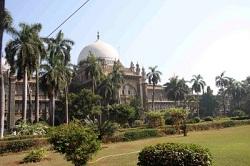 Prince of Wales Museum in Mumbai

One of our countries famous historical museums is Prince of Wales Museum. This museum was built in 1920 in remembrance of arrival of Prince of Wales. This museum was built by George Wittet .This museum is located out of the city. The museum contains collections of art, collection of nearly 2000 miniature paintings sculpture, rare coins and weaponry. This museum contains large collection arts from the date of ndus Valley Civilization and even relics of the ancient and medieval India.


Elephanta Island Elephanta Caves in Mumbai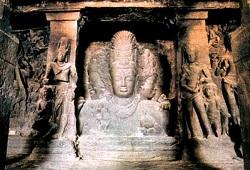 The elephanta caves are the world famous tourist spots containing India's famous artistic sculptures. This island is located from 9kms from the gate way of India out to the sea. The main significance of the island is that it contains a beautiful rock-cut Shiva Temple, on the top of a hill. By a short ferry boat the island can be a reached. The image of the Trimurti Sadashiva is kept in the rock-cut Shiva Temple along with many beautiful sculptures and paintings. The caves also consist of mammoth figurines of women adorning the walls of the Mahesha-Murti Cave.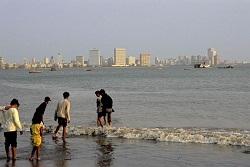 Chowpatty Beach or Juhu Beach in Mumbai

This is one of the crowded world's famous beaches in Mumbai. It stretches for about 5 kilometers and it is also known as Juhu Beach. This beach consists of many food stalls like Pani Puri, samosa stalls etc, road side performers and camel and pony rides. Many bollywood cine actors and actress reside near the famous juhu beach. Many visitors who visit Mumbai never miss juhu beach. There are also various other famous beaches in Mumbai but the greatness of the Juhu beach is well known to everyone. Chowpatty beach is also very important and crowded beach in Mumbai and is a very famous tourist spot in Mumbai.


Marine Drive in Mumbai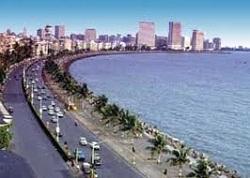 Marine drive is another important tourist attraction in Mumbai in India. It is the Mumbai's Distinctive famous avenue that connects the skyscrapers of Nariman Point to the green villas of Malabar Hill. It stretches along 3 kilometers over the and has an "inverted C form". It is also called the Queen's Necklace because of its appearance after dark, when the street lights sparkle around the curve of the bay.