Krushnaa Patil Zor ka Jhatka Contestant Participant Profile

Find the complete details about Krushnaa Patil Zor ka Jhatka Contestant Participant Profile


Krushnaa Patil Zor ka Jhatka Contestant Participant Profile

Krushnaa Patil is Zor ka Jhatka Contestant or participant who became famous when she scaled Mount McKinley - the tallest peak (6, 194 m) in North America. What is more surprising is that Krushnaa Patil age is just 20 years. What she has achieved in this very short age takes many people whole life to achieve. But this great feat of Krushnaa Patil was not achieved just like that. It was more like a filmy situation where a father has to undergo all very difficult situations to bring money to fulfill his childs dream. Same thing happened with Krushnaa Patil mountaineer. Her parents also had to knock every door to arrange the fund for their daughter journey to summit. But as they say nothing succeeds like success. When Krushnaa the mountaineer achieved her goal and sacled the peak, the bank, from where Krushnaa's father had taken the loan, for Krushnaa's expedition, decided to wave off the entire loan amount.

Krushnaa Patil at the age of 18, became the youngest person to scale Mount Satopanth (Garhwal Himalayas in Uttaranchal). Later Krushnaa Patil scaled mount Everest in May 2009. Scaling of mount everest made Krushnaa Patil youngest Indian to scale mount Everest (after Dickey Dolma).

Krushnaa was part of a dance troupe in her high school. She also dreamt of becoming a choreographer and performer. But the opportunity to be part of the pre-Everest expedition really changed her life. Her dream is to become the first Indian woman to scale the Seven Summits, the highest peaks of the seven continents. She has already finished four of the Seven Summits.


Krushnaa Patil Personal Profile
Krushnaa Patil Date of BirthNot Known

Krushnaa Patil age: 20 years

Krushnaa Patil Address: Pune Maharashtra

Krushnaa Patil Hometown: Pune Maharashtra

Krushnaa Patil Father: Krushnaa Patil Father is a Merchant Navy officer

Krushnaa Patil Mother: Krushnaa Patil Mother is a school teacher

Is Krushnaa Patil Married or martial status of Krushnaa Patil: No. she is not married

Krushnaa Patil Boyfriend: Krushnaa Patil doesn't have nay boyfriend

Zodiac Sign of Krushnaa Patil: Leo

Krushnaa Patil college : Nehru Institute of Mountaineering (NIM) at Uttarkashi, Pune University (arts)


Life hobbies passion and acting career and achievements of Krushnaa Patil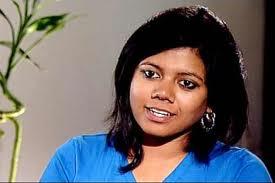 Achievements and awards of Krushnaa Patil

Zor ka Jhatka participant Krushnaa Patil has many first's toher name. Here is few of her achievements.

first Indian woman to conquer the famous Seven Summits

youngest Indian to conquer Everest on May 21, 2009

First Indian woman to summit Mount Vinson Massif, the highest peak in Antarctica.