Biography of Sohrab Modi

Read here about Sohrab Modi Biography and many more information about him.


Sohrab Modi Biography
Sohrab Modi Early Life

Sohrab Modi was born in Parsi family on 2nd November, 1897. His parents were Parsi civil Servants. For few years he stayed in Parsi community in Bombay. Sohrab Modi childhood was spent with lot of activities. As he grew up, his more interest was in exercise and sports. Though in childhood many times he was severely sick and few times he was also hospitalized. Due to which he looked tall but he was thin. But later he was very active. In school he was an average student, he never got hooked to History subject. Many times teacher complained his parents for lagging behind in history subject. His parents turned all the stones to make him study but it all went in waste. But Sohrab was good in sports and from childhood he was interested in exercise which helped him to develop his personality in stage acting. Later he shifted with his family to Rampur in Uttar Pradesh. At the age of 14 -15 his mind absorbed many interesting things in acting as he watched silent movies. Soon his mind got diverted toward stage acting.


Sohrab Modi Theatrical Career

In start Sohrab Modi only acted as an extra or side role which was not that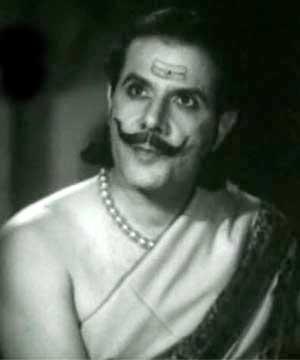 important. But Sohrab was looking for the opportunity where he could act as a leading actor. Very soon he got an opportunity and he broke the ice. Soon He earned the reputation as Shakespearean actor. Sohrab Modi elder brother Rustom helped him in stage acting and people really appreciated the Sohrab acting. As Sohrab was growing up, his personality kept developing. His personality suited the role king. His two plays 'Khoon Ka Khoon' and 'Saed-E-havas' added flying colors to his acting.

In 1931 Hindi movie 'Alam Ara' was released with sound. On one side 'Alam Ara' was a big leap for Bollywood. But on other hand introducing of sound in movies created very big crack in theatre business. People started getting interested in watching movies than watching theatre plays. To save theatre art, Modi brothers set up the stage film company in 1935. From this year Sohrab Modi never looked back in acting carrier.

In 1936 Sohrab Modi launched Minerva Movietone. Logo of his banner was the Lion, is this personally symbolize Sohrab Modi personality? Two films were made from same old theatrical play 'Khoon Ka Khoon' and second movie was Saed-E-Havas. As people had seen both the plays many times this two movies failed. But this failure didn't stop Sohrab Modi in acting.

Sohrab modi talents soon reached the ears of 'Dadasaheb Phalke' ears. Though Sohrab Modi had worked in few silent movies before but Dadasaheb Phalke never appreciated Sohrab Modi acting. One day Phalkey Saab personally went to see Sohrab play of 'Alexander the great'.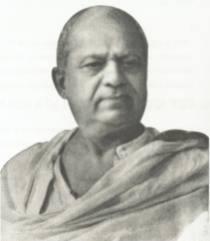 Dadasaheb Phalke Image.

Looking at the perfect acting and perfect suiting personality for role of king, Dada Saheb Phalkey instantly said 'Prithvi La Takkar Denia Sathi Mala Dusra Heera Aaj Bhetla'. It means, today I got second diamond like Prithvi Raj Kapoor. Dada sahib asked Sohrab to sign two movies. But too much work pressure made Sohrab to refuse the offer.

After release of 'Meetha Zaher' and next movie 'Tallaq' in 1938, Sohrab Modi true film career started. From 1939 to 1943 Sohrab modi got chain of three super hit movies.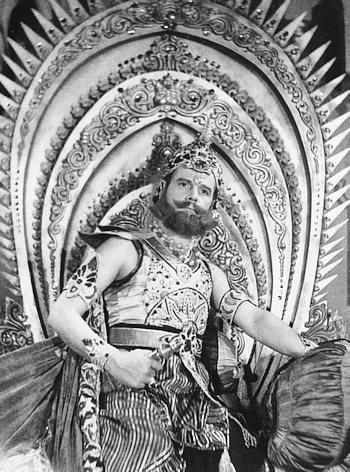 Sohrab Modi Image as LION.


In 1939 'Pukar' was released.

In 1941 'Sikander'

In 1943 'Prithvi Vallabh'.


These three movies were totally based on historical events. Pukar movie was totally based on Mughal Emperor Jahangir fair Justice.
While 'Sikander' was super hit, which was based on King Alexander of 326 BC. The Movie 'Sikander' is still remembered for out-standing acting performance of two lions that is Prithvi Raj Kapoor and Sohrab Modi.

Sikander movie did big hit by getting 326BC historic event alive. Lot of changes was made & huge sets were designed in such manner, it looked back to 326BC. The whole production was totally equivalent to Hollywood best movies. 'Prithvi Vallabh' movie was based on a novel written by K.M Munshi.


Reason for Ban on Sikander

As it was the period of World War II, 'Sikander' did the small role of arousing patriotic feeling and National sentiment. On the discussion with few leaders, 'Sikander' movie was banned in few theatres in few States to maintain the calmness of Indian population.


Sohrab Modi Filmography

After launching Minerva Movietone, Sohrab modi got involved in chain of movies.

1935 — Khoon ka khoon — As Hamlet.

1936 — Launch of Minerva Movietone.

1938 — Jailor - as Jailor.

1939 — Pukar — As sardar Sangram Singh.

1940 — Bharosa.

1941 - Sikander — As King Porus.

1943 — Prithvi Vallab — Munja.

1944 — Parakh.

1950 — Sheesh Mahal — As Thakur Jaspal singh.

1952 — Jhansi Ki Rani — As Raj Guru.

1954 — Mirja ghalib - it was a super hit movie.

1955 - Kundan — As Kundan.

1956 - Raj Hath — As Raja Babu.

1957 - Nausherwan-E-Edil — As King Nausherwan-E-Edil.

1958 - yahudi — As Ezra the Jew.

1958 - Jailor — As Dilip.

1959 - Pehli Raat.

1967 - Who koi aur hoga.

1967 - Ek Nari Ek Brahmchari.

1979 — Gharki laj.

1983 — Razia Sultan.



Sohrab Modi Movie Watched by Blind Man Through Eyes in Heart

'Seesh Mahal' was one of the good movies by Sohrab Modi. It was observed that even blind people were sitting on booked seats. But they put there head down and heard the voice and dialogues of Sohrab Modi. It was first time in history of cinema Blind people had the tears in there eyes while hearing the dialogues of Sohrab Modi. When they asked one Blind man how he enjoyed movie without watching the set up. Blind man was little nervous, he said he watched the movie from his heart and heard the dialogues which made lot of imagination in his mind, which helped him to understand the movie. Ticket Money was returned to blind people.

Some more movies of Sohrab Modi which includes:

Pehli raat

Narsiha Avtaar

Rustom

Veer Chatrasaal

Jwala - 1971

Ganga mang rahi Balidaan

Meena Kumari ki Amar Kahani.


These movies helped Sohrab to maintain the chain of releasing movies without giving gap but they didn't get much business.


Sohrab Modi Awards and Achievements


1953 – "Mirja galib" Won the president gold medal.

1960 — Sohrab Modi became Member of Jury at 10th Berlin International Film Festival.

1980 — Sohrab Modi received Dadabhai Phalke Award.


Prime Minister Pandit Jawarharlal Nehru was quite impressed by the singing of Suraiya in Mirja Ghalib. Prime Minister Pandit jawarharlal Nehru personally said these words to Suraiya 'Tumney Mirza Ghalib Ki Rooh Ko Jinda Kardiya'. This was a good compliment for Suraiya and big achievement for Sohrab Modi film 'Mirza Ghalib'.


Last Days of Sohrab Modi

In 1976 Sohrab had complained about the weakness and headache but by common home remedies this sickness was cured. As time passed Sohrab Modi health kept reducing. But still he was offered with the roles of father or grand father. Later he had to get admitted in 1979 but yet true cause of sickness was not known. On other hand Sohrab never believed that he was sick and never allowed any Doctor to do any checking properly. His common dialogues to doctors were 'Sher kabi bimar nahi padta Aur agar mai bimar Hu to mai jald thik ho jaunga'. His heavy voice was enough to make all Doctors calm. In two days he was discharged.

Soon after completing Razia sultan, he had started new movie 'Guru Dakshina'. But unfortunately this film was never completed. In 1981 or 1982 he was again admitted in hospital and the whole Kapoor Family visited the hospital to convince him to get all checking done. But as doctors had 90% sure that Sohrab was having Cancer. As all the symptoms of sohrab were indicating toward cancer. Sohrab Modi was soon found of having cancer and immediately medications were bought from other countries. Soon Sohrab Modi visits were frequent to hospital. His weight was reducing day by day. He tried to involved himself to complete his 'Guru Dakshina' but his health never permitted to work.

On 2nd November 1984, at the age of 86, Sohrab Modi took his last breath when Cancer had fully conquered the lion of Hindi Film Industry. Whenever there arises a discussion of Classical Movies, Sohrab Modi Movies are still remembered and appreciated.