Meena Kumari Bollywood Actress Filmography Career Profile

Read here to know about Bollywood actress Meena Kumari Filmography Career Profile.


Meena Kumari Bollywood Actress Filmography
Meena Kumari Bollywood Actress Entry into Film Industry

Bollywood Actress Meena Kumari had started working in Indian film Industry at early age of seven. At very early age she had mastered all the needed talent what was needed to be an actor. Other than school studies she had all the fame and fortune kissing her every step. It is said that if film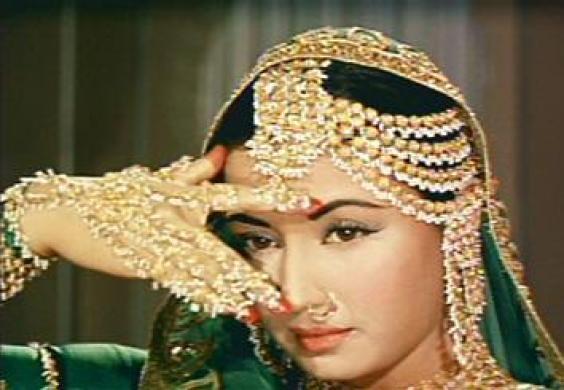 producer Vijay Bhatt and Ali Baksh didn't had focused on Meena Kumari at age of seven then Indian film Industry would had been lacking with this great personality what we know by name Meena Kumari. In short span of time Meena Kumari had made great success in film industry. In this article I will just try to focus on Meena Kumari personal life and few films. Meena Kumari had added nearly 97 films to her list which you can check it out in other sites of net. But I like to share some important details of Meena Kumari personal life, which has not been covered by media news or news papers in piece. As mentioned in my articleMeena Kumari Biography, she had started her carrier as child artist in 1939 but soon after that she was again seen in 2nd film as child artist. For 8 years after acting in leather face she didn't get any leading role in films. It was said, she was working as child artist in stage drama and earning bread butter for the family. Though she had got fame in her first film but further she didn't get much of the success. On other hand she had started contributing well in stage drama. Very little details were found about Meena Kumari after her 1st film. Her elder sister Khurshed was interviewed in 1973 and she had mentioned Meena Kumari was doing stage Drama from 1941 to late 1947 and she was taking care of everybody expense. Though Meena Kumari rarely went to the school but she had learned how to write Urdu and she could read English. She was very soft spoken and shine of respect was seen on her every word what she spoke commonly in Urdu. Looking at her family status she had taken all the threads in her hand and shouldered the responsibility with her father.


Meera Kumari Personal Details
Original Name: Mahjabeen Bano

Screen Name of Mahjabeen Bano: Meena Kumari from 1940

Meera Kumari Date Of Birth: 1st Aug 1932.

Meera Kumar Father: Ali Baksh.

Meera Kumari Mother: Prabhavati devi Tagore. (Prabhadevi and Iqbal Begum
after marriage)

First Movie: Leatherface 1939.

Marriage: 1952.

Ex Husband name: Kamal Amrohi.

Divorce: 1959-60.
Meena Kumari Achievements and Awards

In her full life she acheived many awards but till age of twenty she did good in Baiju Bawra.

* In 'Baiju Bawra' she won the Film Fare Award for Best Actress Role.


Meena Kumari Film Carrier, Education and Love

After acting in her 1st film at age of seven, Meena Kumari understood what Film industry was. She didn't like this industry but as taken responsibility at early ages, she continued to participate in stage acting. At age of 13 she was attending few classes in Urdu just to keep herself known as educated actor instead of being called uneducated. She hardly went to school but school doors
were always opened. When ever she went to school, half day holiday was announced in school. It was said, one of teacher from Anjuman school in Grant road use to teach Urdu to Meena Kumari. But she was also seen visiting some English school in Dadar. She always requested her teacher to teach her as normal kids instead of doing all the formalities. It was said that, twice Vijay Bhatt had com to pick Meena Kumari from school as Ali Baksh didn't had car. In early days of school Meena Kumari had mentioned that principle of school had tears in his eyes when ever Meena Kumari visited the school. When she was of 16, one strange incident had occurred during her visit to school. As she spends few hours in school, that time suddenly there was a phone call for Meena Kumari in principal office. Already principal had taken few details and kept letter pad and pencil ready for Meena Kumari. In hurry principal offered his office table and chair to Meena Kumari to write few notes when Vijay Bhatt had made trunk call by phone from Germany. Meena Kumari had to write few Details of the film.

It happened in quick of time that she didn't realize that principal was standing next to her and she was sitting in his hair and writing on his table. Though principal and peon were there in his office and principal himself had offered his chair to Meena Kumari to write. Peon was standing with coca cola bottle in his hand to offer Meena Kumari. While writing the dialogue what Vijay Bhatt narrated on phone she realized that she was sitting on a respected chair which she didn't deserved. Meena Kumari instantly got up from the chair while writing the dialogues. She realized that she had done big mistake in her life. After finishing the ph call she just asked principle to forgive her for taking her seat. Principal said to her "he was just an ordinary man now in front of her" and Meena Kumari in reply said few words to principal in Urdu-

"Aisa nahi kahiye"
"Aap to hamarey talim ke sartaj hai".
"Mai to yaha talim lene aye thi"
"Mainey abitak es school ki sidiya bhi nahi chadi"
"Na mainey koi kitab padi"
"Na mainey koi imtehaan diya aur mai apki jagah par bhaith gayi"
"Mujhe maaf karna mujsey bahut badi bhool hogayi".

Meena Kumari was very fluent in written and spoken Urdu. She was trying her best to learn English as well. She tried to absorb all the knowledge from the school when ever she got the opportunity. She knew that, now it would be not so easy to learn ahead but she tried to get higher education in acting. Though she
could read & write proper Urdu and could also speak broken English. Many times she mentioned to Vijay Bhatt that she wanted to do her studies. Vijay Bhatt always felt guilty and but he had no other option but to repeat same words what he mentioned before. He use to coldly say "Beta aapki padai ke din beeth gaye hai" it means- study time had passed. Meena Kumari was continuously under eye of Vijay Bhatt. Though till age of 17 Meena Kumari was followed by her Mother or father for shooting or for stage drama but very soon she was started moving independently. After finishing the movie "Veer Ghatokach" in 1949, audience liked her acting and looking at the good response in 1950 Vijay Bhatt started other movie with her "Shri Ganesh Mahima". After these two movies she was fully recognized by full film Industry. Then next film "Allah din Ka Chirag" was kid's oriented film.
By age of 18 Meena Kumari had started sitting with top producers & directors. In 1951 at age of 19 she had already got 8 film offers from different producers and directors but she followed and obeyed the strict instructions of her father. She only signed films which were approved by Ali Baksh.
Meena kumari's Chain of films and her attraction toward director Kamal Amrohi
At the age of 19 Meena Kumari signed 1 movie as she had signed movie before. She didn't knew that, this movie going to change her image.

This movie was no other movie but supper hit golden jubilee"Baiju Bawra". This was her first super hit movie with Bharat Bhushan During that time Bharat Bhushan was leading actor like Guru Dutt, Rehman, Ashok kumar, Raj Kumar, Dilip Kumar. After release and success of Baiju Bawra, Meena Kumari fame was touching sky. Soon she was coming to same level of Madhubala,
who was known as beauty Queen of Indian Film Industry. Once during the shooting of "Tamasha" in one of the studio Meena Kumari happen to be late because her car tyre had got punctured and she had to wait till other car to pick her up. she had to do shooting with ashol kumar as he was also acting for "Tamasha" movie. There luckily Meena Kumari met Madhubala first time. They both had good gossip for 2hours and Meena Kumari learned that Madhubala was waiting for some director called Kamal Amrohi. During the discussion Ashok kumar joined them and all three of them starting discussing on film matter. Soon director Kamal Amrohi reached there and Ashok Kumar introduced Kamal Amrohi to Meena Kumari. This was first time Meena kumari met Kamal Amrohi.
Very soon she signed 2 more movies. One movie was of Vijay Bhatt but this time she had gone against her father wish and signed Kamal Amrohi movie. Kamal Amrohi was in good books of Vijay Bhatt but still he warned Ali Baksh to ask Meena Kumari to avoid Kamal Amrohi film. During that time lots of gossips were going on between directors regarding Kamal Amrohi wrong behavior with side actress and females acting in extras. Due to which Kamal Amrohi relations with her wife were spoiled. But this all gossips were away from Meena Kumari ears. Very soon she had signed Kamal Amrohi movie "Daera". During the shooting times Meena Kumari started liking Kamal Amrohi and even Kamal Amrohi worked hard to sharpen Meena Kumari talents. He never stayed behind when ever Meena Kumari needed any help. Meena Kumari was fascinated towards the positive behavior of Kamal Amrohi. Slowly she started liking her and even Kamal Amrohi had accepted in one of the parties that he loved Meena Kumari and day night he thinks of her. Meena Kumari though happy to have support of Kamal Amrohi but she was little depressed during those days. During that period she wrote few words in her Diary and hopefully these words must have reached Kamal Amrohi.

"Yeh mere chotey kadam barso pehley aapki talash mae bhatak rahey the"
"Ab-jab aap saamney ho to mujhey sabhaal lo"
" Yeh na ho ki mai eesey hakikat na samjhu aur firsey payi hue manzil kho du"
"Kafi mukadal ke baad aap ne meri zholi khushiyo se bhari"
"Yeh na ho ki mai eesey bhi hakikat na samjhu"
"Har pal yeh waqt ka daera lamba ho raha hai"
"Aap waqt ko samajkar mujhey sabhaal lo"

Father of Meena Kumari was not against this relation as Kamal Amrohi was leading personality in Indian Film Industry. But her Mother was against this relation. Very soon Meena Kumari & Kamal Amrohi was caught many times alone in studio. As Vijay Bhatt had seen Meena Kumari growing he didn't like the gossips of Kamal Amrohi and Meena Kumari in atmosphere. People who were working as labor in studio had started talking cheap about Meena Kumari. This cheap talks were hurting Vijay Bhatt. Without consulting Meena Kumari Vijay Bhatt called Sohrab Modi. He had discussion of 1hr with Sohrab Modi and it was said that Sohrab Modi and other directors had spoken to Kamal Amrohi. Sohrab Modi was known as Lion of film industry and he didn't want him to play around with Meena Kumari innocence. Even Sohrab Modi had heard gossips of Kamal Amrohi and Meena Kumari, but after Vijay Bhatt call he instantly came into the action. Sohrab Modi had appointed Kamal Amrohi as writer for his next 3 films and he had also taken big amount as an advance from Sohrab Modi. It was said that Kamal Amrohi didn't had any intention to get married to Meena Kumari in Starting because his eyes were rolling towards Madhubala. On other side he had already discussed this matter in home and he got very negative response from his wie and elder son Sajjid. But due to involvement of Sohrab Modi and vijay Bhatt he couldn't play around much with meena Kumari. Later Sohrab modi called kamal again because he didn't stop meeting Meena Kumari. Later on within few days, Kamal Amrohi and 2 other Directors approached Meena Kumari father for her hand for marriage. Meena Kumari liked Kamal Amrohi and she didn't refuse to get married. In 1952 Meena Kumari got married to Kamal Amrohi and she was second wife of Kamal Amrohi.



After her marriage she wrote this in her Diary.

"Na mai samaj payi meri manjeel kaha tak hai"
"Jaha mai kuch chund chijo ke liye farmaish karthy thi"
"Mukader ney mera daman khushiyo se bandh ke, muje sameth liya"
"Karna chahti hu mai lakh shukriya mukader ka jo mujhe khawabo se nikalkar"
"Hakikat mae nikha karwa bhaity"
"Dukho ko to hum bachpan se dekhtey huye aye hai"
"Usne bhi kambhak apni sharafat nibhayi"
"Jab Mere Dukho mae, dukh ne mera saath na choda"
"Ab meri khushio mae daman pakad kar rakhna"

It was seen that she was very happy after getting married to Kamal Amrohi.
In my next article I will write about her life after marriage.