How to Participate in Kaun Banega Crorepati (KBC 5) 2011

Watch Sony TV for Reality Show Kaun Banega Crorepati Season 5 hosted by Amitab Bachchan. From this article you will get information on how to participate in KBC 5 and its audition and registration details and know the procedures invoved along with details of KBC Questions.


The most successful Reality Show Kaun Banega Crorepati which is a popular version of 'Who Wants to Be a Millionaire?' is coming up with Season 5 (KBC 5) to be hosted by bollywood superstar Amitabh Bachchan from August 2011 on Sony TV.


KBC 5 Registration, Audition and Selection Procedure Details

The auditions date for KBC 5 will starts from 27th May 2011 on Sony Entertainment TV. To get yourself register for KBC 5, you have to watch Sony TV every night from 27th May 2011 at 9:00 PM, where you need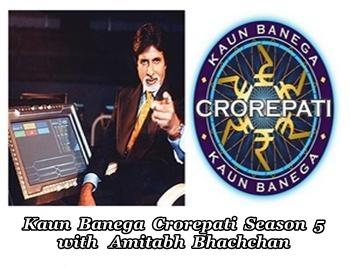 to answer a simple question put up by Amitabh Bachchan the host of KBC 5. The phone lines will be activated from 27th May, 2011 onwards which facilitates you to participate in KBC 5.

Giving the right answer will makes your first entry into the popular Game Show Kaun Banega Crorepati Season 5 2011. To get participated in KBC 5 what you need is your knowledge on various subjects and along with a bit of luck as there will be approximately 14,500 candidates will be selected from the first round.

If you are selected you will be called by KBC 5 team and they will collect your personal information. Then the KBC team will inform you about the audition date and audition venue of KBC 5.

After the verification process around 1400 contestants will be shortlisted and if you are the lucky one you have to undergo a written test followed by video audition. Clearing this test will paves the way for you to get selected for Fastest Finger Round with Amitabh Bachchan. In this round you have to compete with others in giving the super fast right option which will get you a chance to take a hot seat with Amitabh Bachchan on Kaun Banega Crorepati Season 5.

Those who wish to participate in Amitabh Bhachchan's Kaun Banega Crorepati Season 5 can Register free with Mumbaispider to get access to KBC Questions from where you can take up the practice test quiz on KBC which concentrates on topics related to general knowledge questions, science, sports, great personalities, geography, music, arts and literature, mathematics and many more.

Good luck to all the participants of KBC Season 5!!