Pyaar ka Punchnama Movie review with complete cast and story

Are you planning to watch the Bollywood Hindi movie Pyaar ka Punchnama? Before you actually see it, you can smell its flavour as we have given you complete Pyaar ka Punchnama Movie review with cast, plot and story details.


It is often seen that films with celebrities and star casts can seldom manage to acquire fame or publicity. Though it might be a bit early to make such comments for the Bollywood movie Pyaar ka Punchnama since it has been released only a few days back, frankly speaking it seems to be no exception. It is neither a very artistic reviewing of the love, romance and break up problems of the contemporary youth; neither it attempts or claims to be so. The Pyaar ka Punchnama story represents the genre of romantic comedy, centred on today's youth, focusing on their issues of infatuation, love, romance, frustrated relationships and betrayals day in and day out. We cannot expect mastery of the craft from a débutante director such as Mr. Luv Ranjan, but while attempting a Pyaar ka Punchnama movie review we must admit that he has done a fair enough job by instilling laughter into the daily romance schedule of the twenty first century youth. While Bollywood has been all buzzed with serious love and romance from the days of Meena Kumari, through the eras of the Kapoors and Big B upto the modern times, of late a trend has been noticed that attempts a tragicomic problematisation of this universal theme. We might very well remember another film released early this year, Dil Toh Baccha Hai Ji, directed by Mr. Madhur Bhandarkar, which had also made use of the same genre and techniques.


Cast and Crew of Pyaar ka Punchnama movie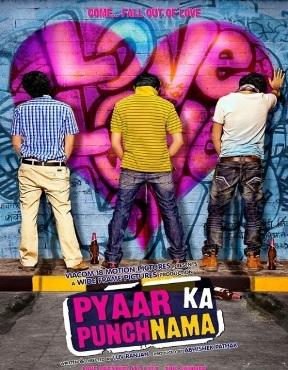 Director of Pyaar ka Punchnama - Luv Ranjan

Playback singer of Pyaar ka Punchnama - Mika Singh

Music of Pyaar ka Punchnama: Clinton Cerejo, Hitesh Sonik, Luv Ranjan and Ad Boys

Starring: Divyendu Sharma, Sonalli Sehgal, Kartikeya Tiwari, Raayo Bhakhirta, Ishita Sharma and Nushrat Bharucha

Lyrics of Pyaar ka Punchnama: Kartikeya Tiwari and Raayo Bhakhirta

Our Pyaar ka Punchnama movie rating: 65%


Most of the actors and actresses of Pyaar ka Punchnama Bollywood movie are newcomers. Despite that, they have enacted with pretty much confidence. The cool and casual Divyendu Sharma might well be considered the show stealer; while his looks added to his credit, he has enacted quite superbly throughout this film. Kartikeya Tiwari looked a little uneasy and awkward now and then, but his performance took a high rise towards the end of the cinema. Raayo also befits his character well, with his eyes communicating a lot, proposing him as a budding talent. The camaraderie between the three actors is also pretty good. Among the girls, while Nushrat Bharucha is just the perfect fit for her role, Sonalli Sehgal and Ishita Sharma had rooms for improving their respective performances.


Pyaar Ka Punchnama Story

The Pyaar Ka Punchnama plot revolves around the lives of three friends - Rajat (Kartikeya Tiwari), Vikrant (Raayo Bhakhirta) and Nishant aka Liquid (Divyendu Sharma). While at the beginning the boys are desperately looking for finding the right girlfriends for them, they soon meet their "soul mates". Rajat meets Neha (Nushrat Bharucha) and soon finds himself living together. Vikrant is entangled by Riya (Sonalli Sehgal), whose past relation still haunts her. Nishant falls for his new colleague Charu who exploits the relationship to lessen her load of office works. Along with time, the apparent polish of a new romance goes away and all the three relationships just start to get worse and worse. What next? Well, for that, you need to watch the movie!

While the first half of the movie is quite speedy and enjoyable, the second half swivels to the edge of clumsiness and monotony from to time. The audience feels that the movie has been lengthened needlessly and making it shorter would have not harmed it but would only have added to its credit. While there are some flashes of excellence like the hilarious monologue of Rajat, in few instances the film has deliberately been dragged on and on which might result in a negative viewer experience. Nevertheless, in our final suggestion, you can go for the movie. You will have a laughter packed session out there!