Preview and story of Aarakshan, Bollywood movie starring Amitabh Bacchan

Amitabh Bacchan, Saif Ali Khan and Deepika Padukone starring Bollywood movie Aarakshan problematizes real life education issues. Learn more about Aarakshan movie preview, first look, story line, crew and cast.


Aarakshan (Hindi: आरक्षण) is one of upcoming Hindi films in August 2011, starring Amitabh Bachchan, Saif Ali Khan, Deepika Padukone, Prateik Babbar, Manoj Bajpayee and many others. Yet another social film by Prakash Jha, the person who also directed the 2010 social Hindi film Rajneeti, this socio-political work problematizes the controversial issue the Government policies regarding caste based reservations in government jobs and educational institutions. The release date of Aarakshan Bollwood movie is 12th August, 2011. Keep reading our Aarakshan movie preview for more details about the film.


Aarakshan Bollywood movie story line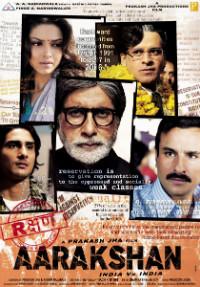 The story of Aarakshan movie is centred around a legendary educationalist Mr. Prabhakar Anand (Amitabh Bacchan), and disciple Deepak Kumar (Saif Ali Khan), Deepak's beloved and Prabhakar's daughter Poorbi (Deepika Padukone), and Deepak's friend Sushant (Prateik). Prabhakar Anand is the archetype of an idealistic principal of a college and his sincere efforts have almost single handedly helped the college turn into a premier educational institution. Deepak Kumar is his very loyal disciple who is ready to do anything if his teacher Prabhakar, whom he addresses as Sir, wants him to do. The plot of Aarakshan movie has a number of subplots. Deepak is in love with Prabhakar's daughter Poorbi and their love relation, with its ups and downs, forms one of the major sub-plots of the film; while yet another sub-plot emphasises the friendship between Deepak, Poorbi and Sushant. The film projects in general the love and friendship among this youth trio as well as their dreams and their enthusiastic zest for a bright future life. The twist in the plot of Aarakshan comes when some of the most controversial issues of the educational paradigm over the past few years. The story of the Bollywood film Aarakshan suddenly becomes an unpredictable trajectory, a roller-coaster ride, rich in conflict (the soul of drama?), coincidences and rebellions that examines the love and friendship of the young trio among one another as well as the common loyalty they posses to Prabhakar Anand.


Complete cast & crew details of Bollywood movie Aarakshan
Producer - Prakash Jha, Firoz Nadiadwala

Director of Bollywood movie Arakshan - Prakash Jha

Star cast of Aarakshan Hindi film - Amitabh Bachchan as Dr. Prabhakar Anand, Saif Ali Khan as Deepak Kumar, Manoj Bajpayee, Deepika Padukone as Poorbi Anand, Prateik Babbar as Sushant, Tanvi Azmi as Mrs. Anand and mother of Poorbi, Hema Malini, Chetan Pandit, Mukesh Tiwari, Yashpal Sharma, Darshan Jariwala, Saurabh Shukla, Vinay Apte, Anita Kanwar, S. M. Zaheer, Aanchal Munjal.

Lyricist of Aarakshan movie: Prasoon Joshi, Shankar Mahadevan, Ehsaan Noorani, and Loy Mendonsa

Aarakshan movie music director: Shankar Mahadevan, Ehsaan Noorani, and Loy Mendonsa

Background Music - Wayne Sharp

Cinematography - Sachin Kumar Krishnan

Choreography - Jayesh Pradhan

Action - Prem Sharma

Art - Jayant Deshmukh

Editor - Santosh Mandal

Screenplay - Prakash Jha, Anjum Rajabali

Costume - Priyanka Mundada
Aarakshan Bollywood movie songs

The Bollywood movie Aarakshan full songs will be 6 in number. However it is being rumoured that there might be yet another one, the Raat ki Paheli song. Media says that their might be an item song, featuring item girl Fernanda in Aarakshan Bollywood movie. Nevertheless there is no certainty about these rumours so far. The six songs that are going to be there for sure are Mauka, Mauka remix, Seedhe point pe, Seedhe point pe remix, Sans albeli, and Roshanee.