That Girl in Yellow Boots (TGIYB) Bollywood movie review with complete cast and story

That Girl in Yellow Boots is another out of the track Bollywood movie from Anurag Kashyap, the director of Dev D. Learn about the TGIYB story and plot concept of That Girl in Yellow Boots movie. Read movie expert wiki review of That Girl in Yellow Boots, latest Hindi film in 2011, with complete cast and crew details.


That Girl in Yellow Boots (TGIYB) is one of the latest Hindi movie releases in 2011. Directed by Anurag Kashyap, the much stipulated director of Dev D, That Girl in Yellow Boots is generically an Indian thriller film in Hindi language. The main stars in That Girl in Yellow Boots movie are Kalki Koechlin and Naseeruddin Shah. That Girl in Yellow Boots was screened for the first time at the Toronto International Film Festival in September 2010. However, that was not a commercial release. Later, the film was again showed in the Venice Film Festival with several more film festivals to follow around the world, the South Asian International Film Festival being an important name among them. Commercially, That Girl in Yellow Boots release date in India as well as in the United States is 2nd September 2011, exactly one year from the first screening of the film. For the film fans, it has been quite a long wait for the Anurag Kashyap film TGIYB release date.


About That Girl in Yellow Boots storyline or plot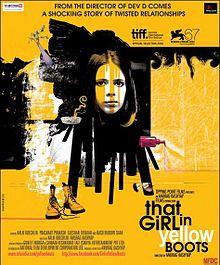 The story of That Girl in Yellow Boots (TGIYB movie) is centred around the protagonist Ruth, portrayed by Kalki Kechlin, a British woman's quest for her father. Ruth hardly knows her father but can't forget him at all. The name of the protagonist Ruth itself, coined from the Old Testament, ironically takes us back to the image of Ruth on her biblical quest, as John Keats has portrayed her in Ode to a Nightingale: "Ruth, when sick for home, she stood in tears amid the alien corn". While the selection of the name Ruth as the name of the main character on a quest in a film that can be easily called a Bildungsroman, the British lady in her desperate search for her father, takes up work at a message parlour without a work permit. As she is almost torn apart between a number of schisms that queue up in the film one after another, Mumbai ultimately comes to be the alien land where Ruth must carry on her quest, thus fulfilling the significance, often ironic, name that she bears on.

Like the biblical Ruth, our Ruth also feels utterly alone and helpless, trapped in the political labyrinth of the Mumbai crime world. Things turn even worse for her as she starts dating Prashant, portrayed by Prashant Prakash, a drug addict. What a plot of TGIYB film it gradually turns out to be! While everyone wants a piece of her, watch the movie to know what will happen to Ruth as she roams about the streets of Mumbai, an alien yet peculiarly familiar city that adds up to her misery, a relationship that she must elude from and a truth to encounter that might just be completely shattering for her.


That Girl in Yellow Boots TGIYB film complete cast and crew
Director of That Girl in Yellow Boots TGIYB: Anurag Kashyap, the much discuss, debated and stipulated director of Dev D.


That Girl in Yellow Boots TGIYB full cast: Kalki Koechlin as Ruth, Naseeruddin Shah as Divakar, Divya Jagdal as Divya, Kumud Mishra as Lyn, Prashant Prakash as Prashant, Gulshan Devaiya as Chittiappa, Ronit Roy, Makrand Deshpande, Piyush Mishra, Shivkumar Subhramaniam, Kartik Krishnan and Mushtaq Khan.


Screenplay writing of TGIYB Hindi film: Anurag Kashyap and Kalki Koechlin


Music of TGYIB songs: Naren Chandavarkar and Benedict Taylor
That Girl in Yellow Boots (TGYIB) film review

That Girl in Yellow Boots is all about identity crisis. Contrary to the much hyped alienation of the colonised throughout the colonial period, the life of a white skinned girl in an once colonised country like India is still quite identical to what George Orwell had experienced in Burma, the "Other" in the eyes of the common run of men. Unfortunately enough, due to her French descent, the Pondicherry girl Kalki Koechlin had herself experienced this alienation and identity crisis. As Kalki has herself speculated, growing up as a white woman in India is being the odd one out as public will inevitably consider you the loose girl on whom they have a right to torture.

An existential thriller, That Girl in Yellow Boots hovers on some dangerous themes that might not come up well with the Sensor Board of India as well as the common audience, including incest, child abuse, drug addiction and withdrawal. The fast paced cinematography, coupled with paced songs and a series of portrayal of tightening up spaces like narrow rooms and message parlours evoking claustrophobia, it is a thriller that is clearly out of the track, and will unsettle you for sure. T. S. Eliot once commented that men cannot take too much of reality, and we realize that having seen this film that clearly unnerves us. The conclusion offers a penetrating pain to a people who mostly go to halls to see happy endings, that they wish they could forget as fast as possible.