Contents, story, telecast time and channel of Satyamev Jayate Aamir Khan debut TV reality show

Amir Khan better known as Mr. Perfectionist will now appear for the first time in a TV show. Satyamev Jayate is the debut reality show of Aamir Khan. Check out detail information like contents of TV show Satyamev Jayate, its story, preview and show time and channel.


Aamir Khan is going to make his début in TV industry and will be hosting a mega reality TV show Satyamev Jayate on Star Plus. Almost all the mega star like Amitabh Bachan, Shahrukh Khan, Salman Khan, Akshay Kumar, Abhisek Bachan, Hritik Roshan, Sanjay Dutt, Madhuri Dixit, Sushmita Sen and many more did some reality show at some time and were successful. Amir Khan was an exceptional but the attraction of idiot box trapped Aamir Khan too and now he is coming up with a big project Satyamev Jayate, a talk show which is expected to be unique and exclusive.


Content and Story of Satyamev Jayate, Aamir Khan debut TV show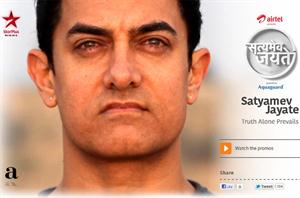 Satyamev Jayate is a talk show. As described by Aamir Khan it is his dream project and one of the best project of his life. As Amir Khan ver minutely observe and work on in and every small points, thus called Mr. Perfectionist had worked hard for this TV project. He considered this show as his most ambitious project and have even postponed his movie Talash to give his time exclusively for this show. Content of Satyamev Jayate is like a talk show and is considered as most unique talk show. It is expected that Satyamev Jayate may even beat Kaun Banega Crorepati of Amitabh Bachan in TRP rating.

Sukhbinder Singh sung title song for TV show Satyamev Jayate. It is 22 minute song and is expected to be melodious. Sukhvinder Singh confirmed that the dedication shown by Aamir Khan is really amazing and he sang the song which reflects humanity and nationality. Thus it seems that the Satyamev jayate will reveal talk show related to events, person reflecting story related to humanity.

Aamir Khan said in an interview that entertainment doesnt mean only to make audience laugh, but it is something that touches the heart and Satyamev Jayate will be a TV show which will touch the heart of audience.


Satyamev Jayate TV show of Aamir Khan, telecast time, channel and title song

Aamir Khan is working on this project for last two years, now the million dollar question is When TV show of Amir Khan Satyamev Jayate starts?. Now the waiting period is almost over as the show will be aired from June 2012.

TV channel showing Satyamev Jayate of Aamir Khan - Star Plus.
Title song of TV show Satyamev Jayate is sung by Sukhwinder. The song is written by Prasoon Joshi and composed by Ram Sampath.

Satyamev Jayate TV show of Amir Khan telecast time - Time of telecast of Satyamev Jayate is still not fixed but it is expected that being most sensational and awaited show, it will get a slot of prime time on Star Plus.