Khatron ke Khiladi 4 contestant Mia Uyeda profile and biography

Who is Mia Uyeda, Khatron ke Khiladi 4 contestant? This article gives complete information on Mia Uyeda, one of the 13 contestants for the Colors TV reality show Khatron ke Khiladi, season 4. In this article you will know about Mia Uyeda's early life, education, career and personal life.


Bio data & personal information of Mia Uyeda

Mia Evonne Uyeda, better known simply as Mia, is a Vancouver-born Canadian model who made it big at a very young age. To be precise, she was just 14 years old when a talent hunter from a modeling agency happened to see her outside a local shop. Once she finished her school education, she managed to convince her parents to take up modeling as a full time career. Mia soon bagged good modeling assignments for both TV and print media and traveled to many Asian and European destinations.

It was in India, though, that her career reached great heights. Photographer Waseem Khan captured her on camera for a photo shoot in Bangalore about 5 years ago. Her exotic looks soon caught the attention of people in Mumbai's fashion industry as well as Bollywood. Mia was not exactly a novice, having attended an acting workshop back home in Vancouver. She danced her way through a song-and-dance sequence in the little-known film Sankat City. Later, she was selected as one of the models for the 2006 Lakme Fashion Week and also for 2007 Kingfisher Calendar. Incidentally, Mia has Indian genes as her father is half-Indian & half-Canadian. She has even succeeded in speaking conversational Hindi, besides being fluent in French & English!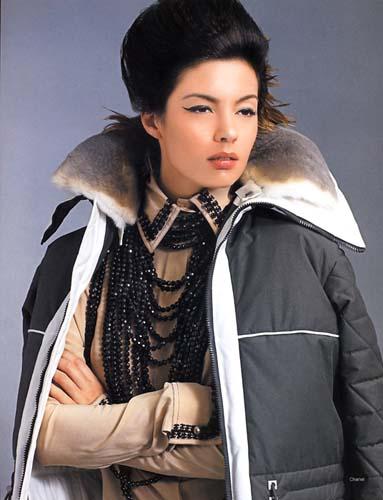 (Photo courtesy miauyeda.com)

It wasn't long before Mia got a big job on the small screen – as host of an MTV weekend program. Besides being the VJ of this show, she hosted a popular car racing program called Maharaja Route. Even more stunning was Mia's appearance on the cover of Elle, a prestigious fashion magazine. Mia had arrived! Not surprisingly, she bagged the campaign for showcasing Kaya skin clinic.

As for her contesting in Khatron ke Khiladi season 4 conntest, Mia has met the host Akshay Kumar earlier – she did a cameo in his film Tees Maar Khan, directed by Farah Khan. Of course, that will not get her any brownie points in the TV reality show ! Mia is likely to go far in this show, as she loves the outdoors and one of the activities she likes the most is hitting the trail with a backpack.

Mia Uyeda Facebook profile: http://www.facebook.com/miauyeda