Profile, biography and personal information of Rageshwari Loomba contestant of Bigg Boss 5

Rageshwari Loomba is a multi talented lady. She is a singer, actor, composer, dancer as well as did some modeling and now she is a contestant of Bigg Boss season 5.


Rageshwari Loomba belongs to a family where music is worshipped. She is a multi talented lady and had acted, sang, danced and did several shows and even modelling. Rageshwari came into lime light after acting in a super duper hit movie Aankhen opposite to Chunky Pandey in 1993 at a tender age of 16 years.


Family and Education of Rageshwari Loomba

Music is the blood of Rageshwari. Father of Rageshwari Loomba, Trilok Singh Loomba was a Government servant and won National Award in music while mother of Rageshwari Mrs Veera Loomba is a housewife. Brother of rageshwari Rishabh is also a film maker.

Rageshwari studied in Auxilium Convent High School, Mumbai and did some modelling even during her childhood. Even doing movies when she was in 10th Ragesgwari passed class 10th with distinction marks.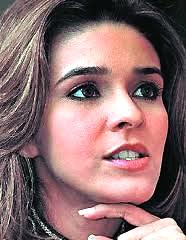 Movies, music albums and career graph of Rageshwari

Rageshwari did some modelling assignment when she was a kid, when she was in 10th only she signed her 1st ovie Zid, though her first released movie was David Dhawan,s Aankhen in 1993.

Movies done by Rageshwari are as follows
Mumbai Se Aaya Mera Dost 2003 Star TV Reporter Priya Narayan
Tum Jiyo Hazaron Saal 2002 Sunanda Kohli
Dil Kitna Nadan Hai 1997
Main Khiladi Tu Anari 1994 Shivangi
Zid 1994 Sonia Modi
Aankhen 1993 Priya Mohan

Rageshwari also released her music albums and initially she was not accepted but later made an important place in music industry. Her music albums Duniya and Pyar ka Rang rocked the deck. Song Ye duniya badi nasheeli was super hit.Y2K Saal Do Hazaar was her last album when a tragedy took place in her life.

Rageshwari Loomba also did several live shows with famous singers like Asha Bhole, Gulam Ali and others across the world.


Biodata and personal information of Rageshwari Loomba

Birth name: Raageshwari Loomba
Nickname of Rageshwari : Paashu and she is also known as Ragz

Date of Birth of Rageshwari : 25 July 1977

Birth Place: Mumbai
Age of rageshwari 34 years
Height: 5′ 4½" (1.64 m)
Color - Fair
Eyes - Black


Rageshwari Loomba in Bigg Boss season 5

Rageshwari indicated that she will preach her housemates about love and care and forgiveness. She is not here for any competition or win but to make friends. Certainly Bigg Boss is second inning of Raageshwari after suffering for almost 10 years from facial palsy. Hope her second inning will be more successful than first.

See details about other contestants of Bigg Boss season 5 Final contestants and guest participants of Bigg Boss 5.