Profile, biography, love story of Nihita Biswas wife of Charles Shobhraj & contestant of Bigg Boss 5

Nihita Biswas came in limelight after marrying bikni killer Charles Shobhraj who is about 44 years elder to her. Now Nihita Biswas is in Bigg Boss house. See biography, profile, her love story and other information of Nihita Biswas contestant of Bigg Boss season 4.


Nihita Biswas the young Nepali bala got the attention of media when she married bikni killer Charles Shobhraj who was in jail in Nepal and is 44 years elder to her. Nihita Biswas is now a contestant of Bigg Boss season 5.


Biodata and Personal information of Nihita Biswas

Nihita Biswas belongs to Nepal. At present age of Nihita Biswas is 23 years. She married Charles Shobraj on the day of Bada Dashmi 3 years back. Marriage day of Nihita Biswas and Charles Shobhraj was on October 9, 2008.

Nihita Biswas believes that her husband Charles Shobhraj is innocent and one day he will be released fro the jail. Charles Shobhraj entered into crime when he was 19 years old as per source and he was convicted for killing bikni girls in Goa. Nihita Biswas started the job as a translator when Charles Shobhraj was arrested in Nepal.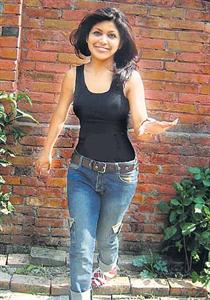 Nihita Biswas Charles Shobhraj love story and marriage

It all started when Charles Shobhraj was arrested in Nepal and the case was filed. Due to language problem a job was announced for a translator and it was Nihita Biswas who applied and got that job. She had to be present everytime when Charles Shobhraj interrogation was going on and gradually both fell in love. As it is said love is blind and age doesn't matter, Nihita Biswas accepted the proposal of Charles Shobhraj in spite of being 44 years younger to him and both got maried in jail 3 years back on 9th October 2008 Bada Dashmi.

May questions were raised and many fingers were pointed out on Nihita Biswas, some claimed that she married to get fame and some claimed that she got married for money as Charles Shobhraj will have to spend his life in jail.


Nihita Biswas in Bigg Boss season 5

Nihita Biswas is now a contestant of Bigg Boss 5 and if she remains in house we may get her point of view for Charles Shobhraj, she can also clear what made her to marry Charles Shobhraj. However in very first episode she cleared that even after 3 years of marriage she did not have any physical relation with Charles Shobhraj. Nihita Biswas love story is gradually revealing and she can even die at this moment in the arms of Charles Shobhraj. May people believe in Nihita Biswas Charles Shobhraj personal relation and love story.

Details about other participants of Bigg Boss season 5 is present at Final contestants and guest participants of Bigg Boss 5.
Nihita Biswas