Profile, Wiki and biography of Singer Vipul Mehta - Final contestant of Indian Idol season 6

Vipul Mehta of Amritsar, Punjab is one of the final contestants in India's biggest musical reality show Indian Idol on Sony TV. Being from a business family, his interest is completely contrasted that is in music. See his profile, biodata, singing experience, education, family and many more. Here you can get all information in brief.


Vipul Mehta belongs to musical city Amritsar and singing is his passion. He is now residing at Mumbai and is self employed and struggling to make an impact as a playback singer in bollywood industry. Vipul Mehta was also finalist in another singing reality show Amul Voice of India four years ago in 2008 when he was merely 18 years old years old. Still he is struggling to get a platform to get entry into bollywood as a playback singer. A diehard fan of Md. Rafi whom he consider as second God, he want to sing like him and want to give voice for actors like Akshay Kumar and Abhisek Bachhan .




Biodata and personal information of Vipul Mehta, Indian Idol 6 contestant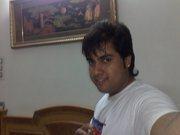 Age of Vipul Mehta is 22 years old. His date of birth is 28th July 1990.

Birth Place of Vipul Mehta is Amritsar.

Address of Vipul Mehta - Amritsar, Punjab, India.

Vipul Mehta orkut profile NA
Vipul Mehta facebook profile - http://www.facebook.com/vipul.mehta.7758

Education of Vipul Mehta Vipul Mehta did his schooling from Senior school II, Amritsar and for graduation he opted DAV college, Amritsar.

Profession of Vipul Mehta - He is a professional singer now and do stage shows. Vipul Mehta is well established and is self employed at Mumbai.

Favourite Singers of Vipul Mehta - Rafi, Sonu Nigam, Shaan, Sukhwinder Singh, Enrique, Rahat Fateh Ali Khan.
Favourite Music Director of Vipul Mehta - Laxmikant Pyarelal, RD Burman, AR Rehman.
Favourite Film of Vipul Mehta - Taare Zameen Par, Titanic, Hero - The Love Story of a Spy.

Hobbies of Vipul Mehta - Music, music and music is the only hobby or passion for Vipul Mehta and Sonu Nigam is his idol.

Family of Vipul Mehta - He belongs to a business family and his family have well established business in Amritsar. Father of Vipul Mehta is Mr. Mukesh Mehta is also in business but also a good singer though due to lack of opportunities he never tried singing as his career. But he was one who encouraged Vipul Mehta to learn music and he is singing from last 14-15 years right at the age of 8 years.


Awards and achievements for Vipul Mehta and performance in Indian Idol 6

Before being selected in finals of Indian Idol 6, Vipul Mehta was one among the finalist of Star Voice of India in 2008, after that he started doing stage shows and is a professional singer in Mumbai.