Jaanmoni Assamese movies cast, crew, story, review music and songs

See details about story, cast crew and public verdict of Assamese movie Jaanmoni.


Jaanmoni a recently released Assamene movies hit the theatre of Assam and entire North East. Jaanmoni is a completely changed version of Assamese movie and not the tradition Bihu series.

As Assamese film industry is in the lean phase Jaanmoni is an experiment which may be helpful in upgrading Assamese film industry as the main focus is on performance, story and to make the movie entertaining for public. It is a low budget movie.


Cast and crew of Assamese movie Jaanmoni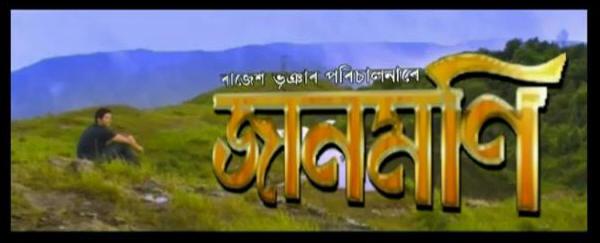 There is a long list of star cast in this movie. Janmoni is a multistarrer complete entertaining movie.

Star cast of movie Jaanmoni - Jatin Bora, Utpal Das, Shyamontika Sharma, Srimanta Madhav, Arun Hazarika, Saurav Hazarika, Kalpana, Meenu Baniya, Munmi Kalita and many others performed and acted in this movie.

Director of Assamese movie Jaanmoni - Rajesh Bhuyan
Producer : Deb Barkataky.
Banner : N.K. Production.


Plot and storyline of Assamese movie Jaanmoni

The movie is basically a love story between Jaan role played by Jatin Bora who is not well to do and gets married to Moni role played by Shyamontika Sharma. Inspite of the opposition from society they lived happily as Moni said 'Toi kakhot thakile mur kaaloiku voi nalage means if you are behing me I am not afraid of any one. But as usual life was not as simple and differences started and ended when they broke up. Moni even after break up could not think beyond Jaan and lastly the movie ends with happy ending and many incidences takes place and both Jaan and Moni reunites to become Jaanmoni.


Music and songs of Assamese movie Jaanmoni

Movie Jaanmoni is flavored by some beautiful and melodious songs. Music director of Assamese movie Jaanmoni did full faith and some of the songs of movie Jaanmoni like 'Ki Je Koru Hai', 'Kumal Kumal Saonire', 'Nila Nila Dusokute' etc. melodious and sweet.

Lyrics of songs of Assamese movie Jaanmoni are well written and meaningful. Overall music and songs can get A rating for this movie.


Review of Assamese movie Pole Pole Ure Mon

The story line is bit week and in the mid part of the movie it is unable to make the audience stick to their seat. However overall it is a nice attempt to make this movie. With few glitches the movie got a good comments from critics. The shooting is done in nice location and songs are good.

Public verdict for Assamese movie Jaanmoni
The pubic gave a mixed verdict, however the movie is worth to watch once. Even to protect Assamese film industry we must watch.

You can put up your views and verdict on movie Janmoni here as a comment. You can write about other latest Assamese movies and other information about Assam at Assamspider.com and earn money. For this you can Register here free.