Best Hotels and Resorts at Pune

Pune City is one of the most visited cities in Maharashtra. Pune is also called as Cultural Capital of Maharashtra. In this article you can learn more about Pune city. I have provided some information about the best hotels and resorts and also about the cheap accommodations available at Pune for a tourist visiting Pune


Best Hotels and Resorts Accommodations Services in Pune

Pune City is one of the most visited cities in Maharashtra. Pune is also called as Cultural Capital of Maharashtra. Pune is the second largest city in the Maharashtra state. Pune is a growing city and attracts a large number of tourists from different parts of the world. Since Pune is the cultural capital of Maharashtra, we can always see some bustling activities involving dance, music and arts taking place quite often. Places like Mumbai and Goa are very close to Pune city and hene Pune is highly preferrable by the tourists.

To meet the needs of growing tourists, there is a tremendous growth in the hotels and hotel industry in Pune city both in economical and cheap hotels as well as 5-star hotels. The hotels in Pune are well appointed, with exceptional infra structure with modern amenities. There are many hotels in Pune, ranging from luxury to budget. Keeping in mind the various needs of the tourists, these hotels offer an exclusive range of top-notch facilities and services. These luxury hotels are perfect for business tourists and travelers looking forward to a lavish stay. There are also many 3-star hotels in Pune, some of the best being Hotel Woodland, The President Hotel and Hotel Ashirwad. Economy hotels like Hotel Parkview and Hotel Dreamland offer the best of dining, accommodation and recreation, at very affordable prices. For travelers with shoestring budgets, some of the best choices amongst the budget hotels are Central Park Hotel, China Tent and Ambassador Hotel.


Five Star Hotels in Pune and Four Star Hotels in Pune are also some of the most sought after accommodations amongst the Hotels in Pune city. These hotels are known for the most delicious range of dishes that are provided by them and feature multi cuisine restaurants that offer both Indian and International fares. There are also a number of cheap and budget hotels which can suit the budget of a common man. Let us now see what are the luxurious 5-star hotels as well as the budget hotels in Pune city.


Cheap and best Hotels and resorts at Pune:

Pune city is eighth largest city in India and situated at the convergence of Mula and Mutha rivers. Pune is a home for many reputed colleges and universities and the city has earned a name 'Oxford of the East'. Also the automobile industry has grown a lot in Pune city. The best automobile manufactures are located in Pune city. So Pune city is one of the most frequently visited cities in India, visited by students, business tourists as well as travellers. This tourist traffic has led to the establishment of many excellent hotels and resorts in Pune city.


Hotel Park View:

Hotel Park view is a leading budget hotel in Pune city, which is located near Deccan Gymkhana and Fergusson college. This hotel caters to the needs of leisure travellers and provides them with first class amenities. Park View hotel offers comfortable accommodation in homely atmosphere.

Hotel Park View at Pune has 21 rooms well furnished and attractively decorated with all modern facilities like Fridge, A/C, attached bath rooms, hot/cold water, TV, Telephone and room service. etc. There is also a multi-cuisine restaurant in Hotel Park View offering vegetarian and non-vegetarian Indian, Chinese, Punjabi and Tandoori foods. The average Tariff of the rooms at this hotel is Rs.750 to Rs.1100 per day.

Hotel Parkview has a multi-cuisine restaurant offering lip-smacking vegetarian/non-vegetarian Indian, Chinese, Mughlai, Punjabi and Tandoori cuisines. Hotel Park View is 12 Kms. from Pune Airport, 4 Kms. From Pune Railway Station and 2 Kms. from Shivaji Nagar Bus Stand in Pune.

Address of Hotel Park View :
#1194/22A, Ghole Road, Behind Pizza Hut,
Shivaji Nagar, Pune - 411004.
Phone: 020-25535047.


The Orchard Resort:

The Orchard Resort is one of the famous resorts in Pune city with a greenery of 1,50,000 Sq.ft. at just 20 Min. drive from Pune city. There are 30 Air conditioned rooms in this resort with good restaurant and bar attached. The Resort also has a swimming pool and a water park for children. We can also see Indoor Games, Outdoor sports and a very huge Children's Park in the Orchard Resort. The 30 Air conditioned rooms are very spacious and comfortable with all the modern facilities available in this resort. Each room in this resort has open sitting arrangement. All these rooms in this resort are provided with TV and intercom. There is also a separate canteen near the rooms which caters beverages and snacks.

Some of the attractions in the Orchard Resort are given below: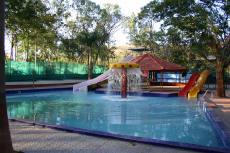 Swimming Pool & Water Park: A nice swimming pool with slides, mush room umbrella and rain dance etc. are available. The greenery at this resort is like a dense forest with a number of trees creating a refreshing ambience as soon you enter the gates of this resort.

Restaurant & Bar: An air conditioned restaurant and bar serve delicious meals and drinks to the guests in this resort. They serve excellent Punjabi, Chinese, Maharashtrian and south indian food for the guests. Corporate packages are also available in this resort.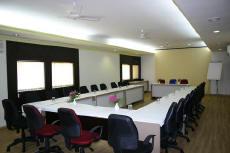 Air conditioned Conference Hall: There is an excellent conference hall available in the Orchard Resort which provides the conference facilities through out the day. The conference is air conditioned and has all the modern equipments required for a conference. A round table arrangement can be made for 40 persons and theatre arrangement for 100 persons. There is generator back up for uninterrupted meetings. There is a separate dining facility for the participants of conference near the hall. Buffet meals will be served to the conference participants.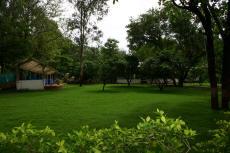 Children's Park & Indoor Sports : There is a children park for the recreation of the children. Indoor games like carroms, table tennis, Chenns etc. are also provided. There is also a open air basket ball and badminton court in this resort.

The other services provided at Orchard Resort are Drivers' accommodation for Rs.100, Bed Tea and break fast. The room rent per day is Rs.3000 per couple and Rs.1000 for an extra adult and Rs.750 for an extra child.

Address of The Orchard Resort :
The Orchard Resort,
Gut No. 540 Village Kelawade,
Shivanand Enclave, Pune satara Highway,
Tal. Bhor, Dist : Pune


Hotel Taj Blue Diamond: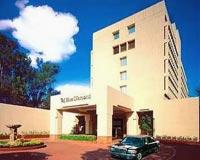 Hotel Taj Blue Diamond is a 5-Star Hotel in Pune which is one of the attractions in Pune City. This hotel is located near the main business center and Shopping areas in Koregaon park area. Taj Blue Diamond offer excellent guest rooms and a warm hospitality service to make your stay comfortable at Pune.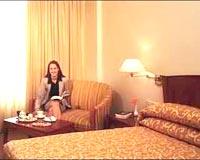 There are 108 centrally air conditioned rooms in Taj Blue Diamond hotel with all the modern facilities. The rooms are very spacious and elegantly appointed, and decorated nicely. There are three different types of rooms in Hotel Taj Blue Diamond namely Executive rooms, Residency rooms, Deluxe rooms and Deluxe suites and Presidential suites. There are two restaurants in this hotel. Mystic Masala, Whispering Bamboo and a cofee shop. There is also a bar called as 'casabella'. Many other services like 24 hour room service, Mbadminton court, Car parking, Car rental facility, Computer on rent, Direct dialling phone, Laundry and Medical facilities and many more.

Address of Hotel Taj Blue Diamond :
11, Koregaon Road
Pune-411001 India