How to Schedule Computer for Shutdown, Restart and Schedule for hibernate

This is a resource which will help you to set the timer for shut downing the computer or setting the time for restart.


Schedule for Shutdown | Schedule for Restart | Schedule for hibernate
---

You can now easily set the timer for shut downing the computer or restating or putting in hibernate or in stand by with hot keys. All we now that working with the shortcut save the time and help full for us.In windows there are many in build shortcuts provide to us in the form of hot keys which helps us in to operate various windows or applications of windows.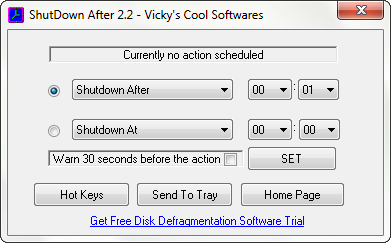 This Utility help you in many ways when you are downloading some of your stuff and you want to go out for some work so by just setting time of shut downing it will automatically shutdown after your download completes.This Utility is basically design for windows platform only.It is user friendly and easily be understand.


Features Of shutdown after :

-- Perform and Manage shutdown operations
-- Simple and Easy to use interface allows schedule shutdown, hibernation, restart, log off, stand by.
-- Hotkeys support
-- System tray support for easy operation