Television Actress Charlie Chauhan Profile,Wiki And Biography - Contestant Of Nach Baliye Season 5

Charlie Chauhan is bold and beautiful and known for her carefree nature and her flamboyant. She is an established television actress and dancer Kumwar Amar of Dil dosti dance fame. They both are celebrity pair as contestant in dance reality show Nach baliye 5. See details about Charlie, her boyfriend and her TV serials and shows.


Charlie Chauhan the TV actress is basically from Shimla, Himachal Pradesh but now settled in Mumbai, Maharashtra and is a heartthrob of youth since she appeared in MTV Roadies 7. Her style and gorgeous look had attracted viewers especially youth and is now a popular face among those who are the viewers of youth channel like MTV and Channel V. At the age of 21 years Charlie is dating with Amar Kunwar a dancer who participated in Dance India Dance and now an actor.


Biodata and personal information of gorgeous Charlie Chouhan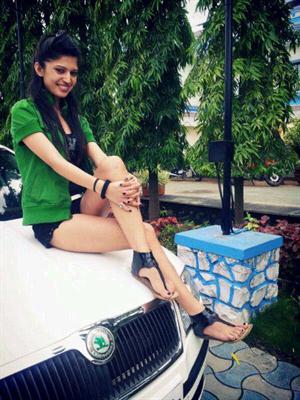 Age of Charlie Chauhan - 21 years, birthday of Charlie Chauhan in on 29th September.
Address of Charlie Chauhan - Originally Shimla, Himachal Pradesh, present address Mumbai, Maharashtra.
Charlie Chauhan face profile - http://www.facebook.com/pages/Charlie-Chauhan/335807669842413

Charlie Chauhan twitter profile - You can follow her at https://twitter.com/angelcharlie8

Charlie Chauhan marital status, dating partner or boyfriend - Charlie Chauhan is unmarried but committed and dating her boyfriend Amar Kunwar a dancer who got fame from Dance India Dance.

Charlie Chauhan height and vital stats - She is tall and have fair height of 5.7, with black hair and gorgeous body, though exact vital stats is not known.




Charlie Chauhan TV actors serials and shows

She entered the glamor world by participating in a reality show MTV Roadies 7 and gained popularity due to her carefree attitude and bold nature. At present she is acing in a serial Best Friend Forever along with Shritama Mukerji aka Vinnie and Fenil aka Sanju. She is playing the role of a flirteous and bold girl Ella. She is dating Amar Kunwar and with him she is going to participate in dance reality show Nach Baliye 5.


Charlie Chauhan and her boyfriend in Nach Baliye season 5

As mentioned by Amar Kunwar, boyfriend of Charlie Chauhan who is a very good dancer, Charlie is bold and beautiful but a kid by heart and she will be revealing her hidden talent of dancing and will match each and every step of her dancer friend.