Salangai oli Movie Review | Story of Tamil movie Salangai oli | Kamal Haasan Super Hit Movie

The Tamil movie which showcased the talents of Kamal as a dancer,performer and what not.An inspiring and a must watch movie!


Tamil actor Kamal Haasan has always been applauded in Tamil film industry for his versatility and untiring new efforts , which turned the world's attention to the Kollywood. With every movie Kamal Haasan has always made it a point to drive some message back home to the audience. The movie Salangai oli is considered one of his master pieces in the Tamil and Telugu film industry. Salangai oli movie appeared both in tamil and telugu industries and was a massive hit in both these places. Some of the other well known actors of Salangai oli who added fame to it were Jayapradha , Sarath babu , S.P. Shailaja and many more. Salangai oli is a tamil dubbed version of telugu movie Saagara Sangamam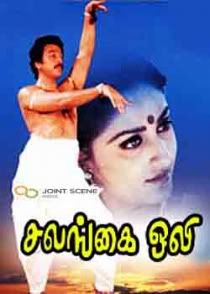 Movie : Salangai oli


Actors of Tamil movie Salangai oli are Kamal Haasan , Jayapradha , Sarath Babu ..


Year of Release of the Tamil movie Salangai oli is 1984


Music director of Tamil movie Salangai oli is Isai Nyaani Ilayaraaja




Story of Tamil movie Salangai oli
The story of Salangai oli revolves around the character Balu (Kamal Haasan ) who is really passionate about classical dance forms like Bharathanatyam , kucchipudi and is a fantastic dancer. He being poor is not able to afford to take classes on these , but somehow manages to learn all the dance forms perfectly.
Salangai oli starts on with a beautiful dance performance by Sailaja (S.P.Shailaja ), who is the daughter of Madhavi ( jayapradha) and a classical dancer. This dance performance is reviewed by Kamal haasan , who works as a journalist in a local newspaper. Kamal haasan easily finds out many faults in the dance and criticizes the dance through his article in his newspaper. Angered by this , S.P.Shailaja and her fiancée report to the newspaper centre and ask Kamal haasan to make an apology for his doing. Kamal haasan, who is an expert in dance forms , starts dancing for the song , for which shailaja had danced and points out the mistake (iam sure you must have all seen this scene ).The song is Om Nama Shivaaya
Mean while , jayapradha who confronts this article , enquires her daughter on it. Seeing the name and the reality in the article she plans to visit Kamal haasan , without knowing who he is , just to make an apology for her daughter's wrong abinayam in the dance . Going there she finds out that , Kamal Haasan was the person who wrote the article and becomes shocked seeing his condition who is almost in the verge of losing his life because of alcohol addiction . She makes a decision to take him for treatment to her place along with Sarath babu's help. Here starts the flash back of Salangai oli starts.
Jayapradha starts remembering how she met Kamal Haasan, clicking his pictures in a temple , where he was seeking an amateur photographer's help to make Kamal Haasan's dance portfolio. At the studio, when Kamal Haasan sees his pictures with her , he gets perplexed and their friendship starts. In a course of time Jayapradha , forgets the pains of her married life and starts working to give recognition to kamal Haasan. She gets him a slot for performance in the national dance festival , which he does not attend due to sudden demise of his mother. Thus , when kamal's friend ship gets transformed into love , jayapradha's husband gets back and takes her away. Kamal resorts to drinking alcohol and stays with his friend Sarath babu seeking his help for livelihood.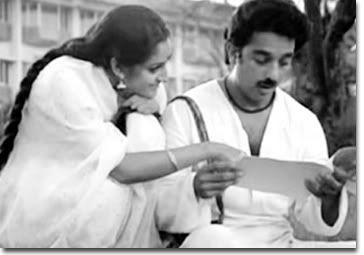 In the present day as jayapradha , gets kamal admitted for his treatments , makes sure he has to be her Shailaja's guru for her national performance which is to be staged after few days. Kamal , not caring about his worsened health condition starts coaching Shailaja , who does not actually co operate with him . Finally the day of performance comes and jayapradha lets people know how talented and how unlucky kamal was in his life and how India has missed such a great dancer. On hearing this Shailaja realizes her mistakes , and seeks apology and gives a splendid performance. Kamal , who get applauded for this , loses his his life in the middle of performance , after attaining the satisfaction that , finally his dance has been staged.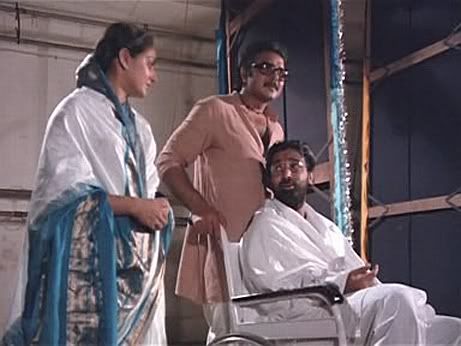 Salangai oli Songs


Nadha vinothangal


Thakita thadimi


Om nama shivaya


Vaan pole vannam







Ilayaraja again proved his exceptional talent in music composition through these Songs of Salangai oli and the way the singers like S.P.B , S.P.Shailaja , Susila sang them , made them sensational and melodious songs.






An awesome Tamil movie, seeing which anyone and everyone will finally end up with tears. This is an inspirational movie . For those who haven't seen it yet , please do watch it.




Message from Tamil movie Salangai oli which I inferred:


There Are Two Ways Of Spreading Light: To Be The Candle Or To Be The Mirror That Reflects It