Karthi Saguni movie review - A complete misfire!

Are you looking for the review of Karthi latest movie Saguni? Do you want to know about the story of Karthi Saguni? Here it is! Get the latest movie reviews of Kollywood and the Karthi latest movie Saguni review. In this article you will get the details like the actor performances, songs, lyrics and the final verdict.


Karthi Saguni movie review

Movie : Saguni
Rating: 2.5/5
Cast : Karthi, Praneeta, Prakash Raj, Santhanam, Kota, Radhika, Roja and others
Directed by : Shankar Dayal
Produced by : Antony Xavier
Banner : Dream Warrior Pictures
Music : GV Prakash Kumar
Release Date : 2012-06-22

Tamil actor Karthi much awaited political sattire movie "Saguni' has 1150 screen world wide today!. The movie has created much hype in the Kollywood movie industry like anyother his previous movie. Lovely girl 'Pranitha" was played opposite to Karthi with Radhika Sarthkumar in supporting role. The entire movie was shot in and around Chennai and climax in Hyderabad. Lets see whether it has reached its expectations or not!


Saguni Movie story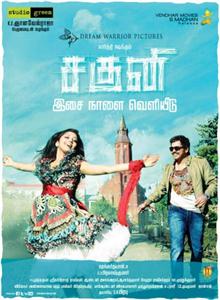 Karthi in the role of Kamalakannan will be playing as a political leader and it is a movie on 'social sattire'. He is a simple common man who works in a small company. His family is know for feeding unlimited food to the guests and passers-by every day. He loses his only house in a new contract signed by the Government. He was denied justice in the court and realizes that the Chief Minister (Prakash Raj) himself is involved in that fraud. The rest of the movie is all about how Kamal gains place in opposition party, how he becomes main opposition leader and how Kamal brings down the CM. Personally I have liked open credits where it shows the death of CM (Chandramohan), a political plot produced by Bhupati (Prakash Raj). But it takes another 30 minutes to get back this serious issue. Our hero stays in aunt (Roja) house where he fall in love with her daughter Sridevi (Pranitha). In due course Roja didnt accepts the love and the affair breaks up.

Later he comes to Chennai to settle this property issue with CM Bhupati (Prakash Raj). After some incidents he starts telling his story to auto driver Apparao Durai alias Rajini (Santhanam), who assume that the Karthi is rich and driving him through the city is profitable for him.


Performance of actors/actress in Saguni movie

Karthi- He has done justice to his role. His logics and actions are too good to watch on the big screen. Personally I feel that his character could have been more developed, director failed to use him properly.

Santhanam- He plays the sidekick to Karthi and throws many one liners. Surely few of those worked. He is lifesaver of Saguni is Santhanam who have equal screen presence to hero in the first half.

Praneetha- She doesn't have much role in the film. We have to search for in second half where completely gone missing. She comes only for songs in 2nd half and have maximum of 10 minutes in the second half.

Prakash Raj He is tremendous asusual. There is nothing much to say about Kiran Rathod. Nazar and Kota are fine. Radhika is good. Roja is okay. Anushka played a guest role which is the best part in the first half. Andrea did a blink and miss role.

Saguni was shot in and around in Chennai & Hyderbad. The musical tracks of Saguni are tuned Tamil music director GV Prakash has composed music which consists of 5 peppy tracks. Kandha kaara vaadai...', 'Manasellam mazhaiye', and 'Vella bambaram...', songs are pictured well.


Final Analysis of Saguni movie

Personally I feel it is totally illogical movie! The movie won't impress the logical thinking audiences. Once the hero enters into politics it tours out to be completely cakewalk for him eventhough powerful villain in 'power' as CM. On lighter side the movie Saguni may appeal to the some class of audiences. There were few decently canned scenes and humorous dialogues by Santhananam. You can look out for Anushka Shetty and Andrea who have done guest appearances in the film.