The profile and biography of Bharat Ratna C.Subramaniam- Freedom fighter from Tamilnadu

This article gives you the profile and biography of "Bharat Ratna" C.Subramaniam who he was a freedom fighter of India. This article also exhibits his various services to the country and his political involvement.


The Profile and study of Bharat Ratna C.Subramaniam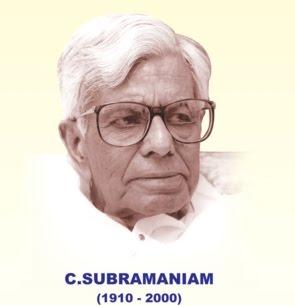 Bharat Ratna C.Subramaniam was born in 30th January in the year 1910 at a small village in Tamil Nadu. Mr. Chidambara Gounder was his father and he is an agriculturalist. Bharat Ratna C.Subramaniam has been also called as C.S. by the people of Tamil Nadu. He did his early education and school studies in Pollachi of Coimbatore District which is very neat to his village. Then, CS moved to Chennai to complete his higher study and he received his Under Graduate degree in B.Sc. (Physics) from the Presidency College, Chennai. He also got one more degree in Law from the Madras Law College. He got married with Shrimati Sakuntala and blessed with one son and his name is Shri Rajashekar and two daughters with the name of Shrimati Aruna Ramakrishnan and Shrimati Swathantra Sakthivel. He was a noble hand in good administration and eminent person in current affairs. He also involved in the freedom struggle of India and went to prison many times. He is also one of the persons to receive the India's highest and most prestigious award "Bharat Ratna" while in alive. He was a person to improve the food production rate in India and the wheat production in India got a record break by many initiative steps which was taken by him. He was very simple in nature and he had good friendship with all politicians of India.


The Political career and social services of Bharat Ratna C.Subramaniam

Bharat Ratna C.Subramaniam is a good freedom fighter and he had full of patriotism in his life. He involved in various social activities in his school and college life by involving him in various committees and organizations. He also participated in the Quit India Movement in the year 1942. Mr.C.Subramaniam started his political career by joining in the Congress Committee and he became the president and working member in that party later. He was an active Minister in the Madras State from the year 1952 to 1962 and got the Finance, Education and law as his portfolio. He also served as the Leader of the House in the Madras Legislative Assembly for the period of 10 years from 1952. Then he was elected to the Parliament of India in the year 1962 and he was the central Minister for Steel and Mines. Subsequently, he became the minister of Agriculture and Defence later. He was also a chairperson in the Planning commission of India. He took an important part in the Green revolution of India. He also worked as a governor of Maharashtra in the year 1990 and he implemented many activities in Maharashtra during his period. He gave his big hand in the forming of Constitution of India.


The Awards and achievements of Bharat Ratna C.Subramaniam

C.Subramaniam got the highest award of our Nation "Bharat Ratna" in the year 1998. He also reeived the Y.B. Chavan National Integration Award, U Thant peace award, Anuvrat award and Norman Borlaug award. A commemorative coin of Bharat Ratna C.Subramaniam was released in August 2010. He wrote many books including War on Poverty, The New Strategy in Indian Agriculture, Some Countries which I visited Round The World and The India of My Dreams. The great Bharat Ratna C.Subramaniam died on 7th November 2000. The memories and services done by him will always make remembrance of him. Find the list of all Freedom fighters Tamilnadu here!