Weekend picnic spot near Kolkata: Routpara, Hooghly

A lesser known destination can often offer greater excitements. Learn what to see in Routpara, Hoogly, how to reach, booking information and other details here.


Where is the biggest terracotta temple panel in West Bengal? If your answer is Bishnupur, Bankura, you are wrong! The biggest terracotta panel of the entire West Bengal lies hidden in a comparatively lesser known tourist destination quite close to Kolkata. The major attractions here include the Mangal Chandi temple, the Durga temple complex and the Siva temple. Yes, Routpara in Hooghly may not be widely known, but it can be a very good weekend tourist destination near Kolkata as well as an ideal picnic spot near Kolkata within 100 kilometres. Let us explore this remote village of Hooghly district here and try to find out what to see in Routpara, how to reach there, where to stay in Routpara (tourist lodge booking information) and so on. Keep reading!


What places to see in Routpara on day trip from Kolkata?

Very much like Bishnupur and Shivnivas, Routpara in Hooghly was yet another temple city of the medieval Bengal. While Routpara Durga Mandir is the major attraction, there are lots of other temples to see in Routpara, scattered all over the place. The terracotta temples of Hooghly Routpara showcase both the Ratna (Or Pinnacle) and Chala (Sloped Roof) styles of medieval Bengali architecture. Altogether there were five terracotta temples in Routpara, but three of them are nearly ruined. The main tourist attractions in Hooghly Routpara include:

Mangal Chandi Temple, Routpara, Hooghly: The Routpara Mangal Chandi Temple is a great example of the medieval Bengali terracotta architecture with 13 ratna or pinnacles. However, almost all the pinnacles are nearly ruined, and there should be ample efforts to restore them.

Routpara Shiv Mandir: The Siva temple of Routpara was constructed on a much later date than the Mangal Chandi temple or the Durga temple complex. It is a small shrine when compared to the proportions and architectural grandeurs of the other terracotta temples of Hoogly Routpara.

Durga Temple complex of Routpara, Hooghly: The Durga Mandir of Hooghly Routpara, currently maintained by the Archaeology Department of the Government of West Bengal, is one of the major tourist attractions of the Hooghly district. Known for its grand and exquisite terracotta carvings, the Routpara Durga temple also boasts the largest terracotta panel in the West Bengal located near the entrance of the shrine.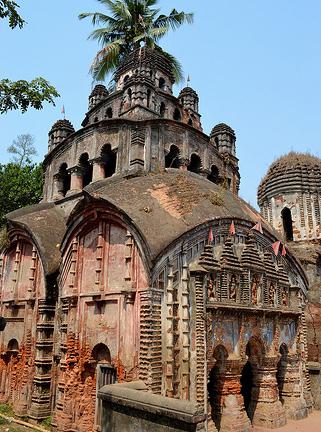 Terroctta works of Rasmancha: Rasmanchas or Theatres for Radha-Krishna's amorous plays were major religious buildings of the medieval Bengal. While the Rasmancha in Bishnupur, Bankura, is widely known for its architectural marvel, Raas Manchas were part of all Vaishnava temple towns of medieval Bengal. The octagonal structure of Rasmancha in Routpara has now lost its earlier glory after the renovation, but it is still worth a visit. Moving towards Arambag, you can locate another Rasmancha and a deserted Siva temple engulfed with foliages.
If you want to explore further, step to the main road to locate another notable octagonal structure of Rashmancha. Though the structure has been renovated, but the modernized version does not hold its past elegance. You can also locate ruins of another Rashmancha, while walking towards Arambagh. Move a little further to view the arched gateways of the Shiva Kutir, a deserted structure, now covered with foliage.

Other places to see near / around Routpara: The famous Tarakeshwar temple is not far from Routpara. In fact, if you plan to stay overnight, you have to find your lodgings either in Tarakeshwar or in Arambagh.


How to reach Routpara Hooghly from Kolkata

Hooghly Routpara is an ideal location for an one day tour from Kolkata. You can board a local train to Tarakeshwar, and board a place to Bali Dewanganj. Get down at Haldarpara, from where you will find a village road to Routpara. If you are looking for car route to Hooghly Routpara from Kolkata, you can take Durgapur Expressway and then Tarakeshwar Road to Tarakeshwar and then follow the previous direction.





Where to eat in Hooghly Routpara

Since Routpara is a remote village, do not expect good restaurants there. It is better to carry packed foods, as well as bottled water if you fear contamination from the village water.


Where to stay near Routpara Hooghly

It is better to plan a day trip from Kolkata to Hooghly Routpara. If you have to stay overnight, find your lodgings in Tarakeshwar or Arambagh.