Anushka Shah Miss Hyderabad and contestant of Femina Miss India 2013 - Profile, wiki and biography

Anushka Shah the glamour girl from Hyderabad, Andhra Pradesh won the title of Miss Hyderabad in 2011 at merely 17 years of age and is now a final contestant of Ponds Femina Miss India contest in 2013. Here is the detail profile, biography, modelling assignments and other personal information of this beauty pageant Anushka Shah.


Ponds Femina Miss India 2013 is ready with its final 23 beautiful contestants chosen across the Country and one name with shakes the heart of all Indians is the teen aged Anushka Shah who won the title Mis Hyderabad 2011 and is one of the finalist.

Anushka Shah is blessed with beauty and brain and the level of maturity she got at this tender age is one of the strongest point which gives her an edge whenever she is in a crowd and this has been one of the strongest reason for her success till date.



Biodata and personal information of Anushka Shah

Age of Anushka Shah is 18 years old and her date of birth is 24th June.

Birth Place of Anushka Shah is Hyderabad, Andhra Pradesh

Address and contact details of Anushka Shah - Hyderabad, Andhra Pradesh, presently living Mumbai and perusing law from there.

Height and Vital statistics of Anushka Shah Height is 5' 5'', weight is 50 Kg and her Vital statistics (in inches): 34-25-34

Anushka Shah facebook profile - http://www.facebook.com/anushka.shah.374

Anushka Shah twitter ID - https://twitter.com/anushkashah1
Education of Anushka Shah She did her schooling from Hyderabad Public School, Begumpet upto class 10th and 11th and 12th from Hyderabad Public School. At present she is studying law from Mumbai.


Hobbies of Anushka Shah She likes Sketching, Surfing the net, Reading, doing research work and listening to music. Studying law and practising it is one of her passion.

Anushka Shah favorite film stars are Hrithik Roshan and Akshay Kumar.

Favorite Movies of Anushka Shah are Mr. India, Rang De Basanti, Cocktail, Monster-In-Law, the Harry Potter Series, Don, Dus, Dostana, Fashion and she is crazy for movies.


Modelling assignments and awards of Anushka Shah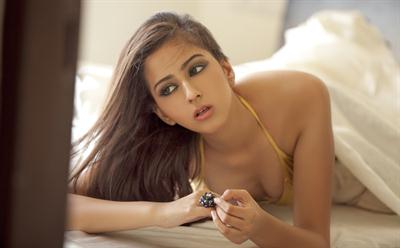 Anushka Shah participated in Dabur gulabari Miss Roseglow Hyderabad in 2011 and was in contract, now she is participating in Miss India contest. At present her main aim is to complete studying law and then she will enter into modelling,though this contest had already opened door to enter the glamour world for her especially when she is in finals.

In coming years Anushka Shah will be seen in Telegu movies for sure and certainly her talent may bring her success and will rule the fashion industry in future..