Ocean Park Gandipet, Hyderabad - Timing, ticket price and booking and contact details

Ocean Park is one of the most interesting place in Hyderabad to spend a holiday or weekend. There are various water rides and games for adults as well as children. Here is the detail about timing ticket price and booking details and complete address of Ocean Park, Gandipet, Hyderabad, Andhra Pradesh.


Ocean Park is one of the thrilling,exciting and entertaining place in Hyderabad and one can enjoy full day with their family and friends. It is most attractive and a must seeing place in Hyderabad and has been an important part of Hyderabad Tourism.



Location and other details about Ocean Park, Hyderabad

Ocean Park is situated in Hyderabad at Gandipet and is fifteen kilometers away from the city. Ocean Park maintains International standards. The rides and the other infrastructure in the Ocean Park are tested by experts in that field who came from foreign countries. The rides are extremely thrilling and amazing which may look dangerous but are not. They take intense precautions for the customers especially for the growns-ups and kids. The Ocean Park in Hyderabad is like a replica of small Ocean and you get the real experience of being in the Ocean. The Infrastructure in Ocean Park are build over with great latest technology and state-of-the-art Engineering. The Ocean Park is spread over twenty acres and there are a number of thrilling rides both for the children and for the youngsters separately.People who go to Ocean Park come out with intense happiness and joy.


What to see at Ocean Park, Hyderabad

There are 2 major sections in the Ocean Park. Those are

* Water Sports Section
* Amusement Games Section

Water Sports Section in Ocean Park, Hyderabad
In this section all the games related only to he water are present.Separate water games and pools are present for the children and adults.The special attraction of Ocean Park is,artificial waves in the pool are created which give the feel for the people in the pool that they are really in the ocean.The water in the pools are replaced very frequently so that no diseases are prevailed in the pool.

Amusement Games Section in Ocean Park
In this section all the games are water free and are just thrilling and amazing.Giant teacups which circulate you and your heart in air for sometime,ships which make half and full circles in air and trains which make you to see all the Ocean Park are some of the games in the Amusement Games Section.



Games for children in Ocean Park, Hyderabad

There are several games for kids and all of them are safe and enjoying. These games are
* Wading pool
* Fountain
* Toy train
* Helicopters
* Huge air filled balloon
* Video games


Games for adults in Ocean Park

* Heady and exciting water slides
* Jet skiing
* Roller coasters
* Ships


Water Rides in Ocean Park

Thrilling, exciting and adventurous water rides are there but there is no risk as safety is the priority here. You can enjoy several water rides like

* Mushroom Umbrella
* Floating Bridge
* Wide Slide
* Tube Slide
* Tilting Bucket
* Water Screen
* Floating Bridge
* Duck Jets
* Corrugated Umbrella.


Accommodation at Ocean Park, Gandipet, Hyderabad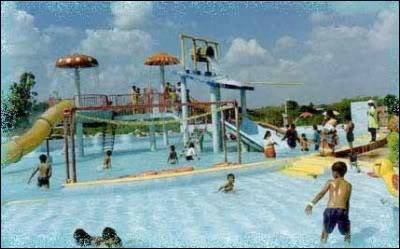 A Guest House is present near the Ocean Park. Rooms are available in that guest house for staying.You can get in there and after fresh up you can visit Ocean Park. Hotel is also present in that guest house. The food is also excellent in the hotel.


How to reach Ocean Park, Hyderabad

As Hyderabad is a metropolitan city you can reach here either by private means of transport or by government bus services.

Bus Routes to Ocean Park
One can reach Ocean Park easily from Mehadipatnam.

Bus numbers from Mehidipatnam to OCEAN PARK are 120,220S,220V, 220J, 120M

Private Means to Reach Ocean Park

Local cabs are available from bus stand and railway station to reach Ocean Park. You can also hire an auto-rickshaw to reach there.


Ocean park Timings

Ocean Park is opened on all the 7 days of the week and the timings are from 11:00 a.m. to 8:00 p.m.


Ticket price and booking at Ocean Park, Hyderabad

If you are looking for the ticket rates at the Ocean Park, here is the latest charges. (Prices are subject to change)

Adults: Rs 300/-
Children: Rs 200/-