Bugle Rock - Massive rock of more than 3000 million years old at Bengaluru

The Bugle rock is situated in Basavanagudi or the bull temple in south Bengaluru. This is a massive rock which is more than 3000 million years old. In this article you will learn more about the Bugle Rock.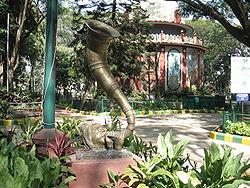 About Bugle Rock in Bengaluru

The Bugle rock is a huge rock which is situated in Basavanagudi in south Bengaluru. The Bugle rock is more than 3000 million years old. The Bugle rock is an abrupt rise above the ground. This rock has generated a great among the scientific community.

There is a watch tower on the Bugle rock which was built by Kempe Gowda II. Actually Kempe Gowda built 4 watch towers setting limits for Bengaluru's expansion and this tower on the Bugle Rock is one of the four watch towers. It is said that every day at sunset, a sentry would blow the bugle and hold a torch light which is visible from the other watch towers to indicate that everything was safe.

Most of the rocks on the bugle rock are having hollows in side them which were once used to light lamps. The Bugle rock has spread over an area of 16 acres.


The Bugle Rock garden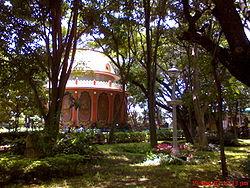 A small park with waterfalls and fountains was developed near the Bugle rock.
This garden is frequently visited by children, families and the elderly people of Bengaluru city. There are three temples in the park. This park was developed by Horticulture dept. of Karnataka. Nearly 1000 visitors visit this park every day. An amphitheater is also built in this park with a capacity of 300 people. We can see the Dodda Basavana Gudi and a Ganesha temple within the limits of the park. According to the inscription in the Basavana gudi temple, a spring beneath the Nandi is the source of the Vrishabhavathi river which is flowing to the west of Bengaluru city.

There are city buses from Majestic bus station, Jayanagar and shivaji nagar to the Bugle rock park.