Bangalore Flower Show @ LalBagh - August 6 -15

The Bangalore flower show is back starting from Aug 6 - end on Aug 15 with many flowers on display at the LalBagh Gardem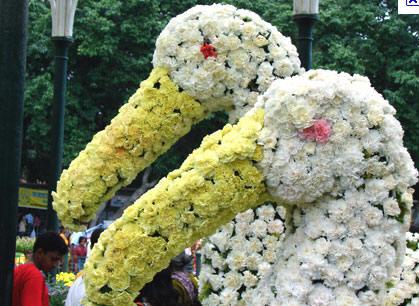 The flower show at Lalbagh Botanical gardens begins on August 6 and ends on the 15th of the same month, said N. Jayaram, director of the Karnataka horticulture department that maintains Lalbagh.

The department organises flower shows twice a year to coincide with the Republic Day and Independence Day.

Lalbagh, in south Bangalore, is spread over 240 acres and is a must see for visitors. It has over 2,000 species of plants and flowers

People are ready to visit the annual flower show organized by the Department of Horticulture in Karnataka at the Lal Bagh Gardens here.

'Floral Fest' is the theme for the flower show and the aim is to bring people together to enjoy nature and know more about flowers and plants grown in and around the city.

Ever imagined what the India Gate would look like if it was made of roses? A replica of the monument with 250,000 roses will be the star attraction at the annual Independence Day flower show here. 250000 roses and assorted flowers were display, including a huge replica of India Gate which is located in New Delhi.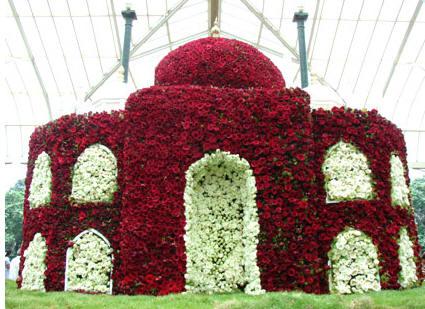 The event commenced on Friday and will be open to public till India's Independence Day on August 15.

Over 250 varieties of flowers and flower plants will be on show, some from Thailand and Taiwan.


School students will get a free entry to the show on August 13.


On other days, charges for adults are Rs 30 (Rs 40 on Sundays and other holidays) and Rs 10 for children.


Parking facilities: Four wheelers will be allowed only through Siddapura Gate. Two wheelers and bicycles will have to take the Double Road.