Maitreya Buddha Pyramid Valley Bengaluru

The Maitreya Buddha Pyramid is one of the largest meditation center in Bengaluru city located at Kanakapura Road


Pyramid Valley Bengaluru

Slice of Heaven on Earth is what they call for Maitreya Buddha Pyramid. This pyramid is situated in amidst rocky hills and lush green valleys some distance off Kanakapura Road sits the slate-gray Maitreya Buddha Pyramid. It's the world's largest meditation pyramid.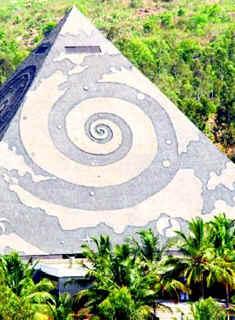 Pyramid Valley was built in 2005, by Pyramid Spiritual Trust (India). This pyramid is 102 ft tall and can accommodate 5000 people. This design of this pyramid is inspired by Pyramid of Giza, and one of the meditation center, self-realization and spiritual wisdom place to be in.

The north face of the Pyramid has murals depicting air; the south portrays fire, the west earth and the east, water. The vast space inside the pyramid is representative of the fifth element, space. This pyramid has the best in class infrastructure, where a person can meditate and get spiritual healing and find one self.



King Chamber, is most energetic sport with 34 ft tall and can accommodate 40 people for meditation.


All the rooms in pyramid are fitted with Himalayan crystals to bring more energy and spiritual feeling.


Lower Hall or Base of Pyramid has many scripts and teaching Buddha.
It is structure in itself with Buddha preaching, teachings, meditation, self-realization and finding one self at the Pyramid Valley


The Maitreya Pyramid is open 18 hours a day. will be open for 24 hours in coming days.

Some more information about Maitreya Pyramid


It took four years and a investment of Rs.5 crore to construct the Pyramid.


Around 5,000 people can meditate inside the Pyramid at one go.


The Pyramid stands on a 26-acre property called Pyramid valley.


There are dormitories on the premises, which can lodge 200 people.


There is also an amphitheatre, two lakes, other smaller waterbodies, a
hillock with a pagoda for meditation and a cafeteria.


The trust has an Annadana programme where food is provided free to all.