Bengaluru International Film Festival 2011 Dec 15

Bengaluru International Film Festival 2011, is being organized by the Karnataka Chalanachitra Academy. Where they will showcasing the best of world cinemas in the city and also provide some best tips, trainings and techniques on the cinemas for the new entrants. Read more


The 4th BIFFES, the Bengaluru International Film Ffestival in Bengaluru, from Dec 15 - 22, 2011, for a week, showcasing the Best in Cinema from around the world.

Bengaluru is now becoming an important hub for the international film culture and in order to mix both the culture International and state heritage, its achievements in respective fields like arts, cinema, literature and fine arts. Also the contribution of Kannada Film industry to the state, country and world wide.





Kannada Film industry has got many talented actors, who have made mark in the international arena of the cinemas and made Karnataka Proud by winning many awards and appreciation in different international awards functions.

Bengaluru International Film Festival 2011 will help the start and also many aspirants movie makers, looking out for careers in fine arts, cinemas. This festival will also showcase cinemas from world wide and also provide classes and many useful tips of cinema making.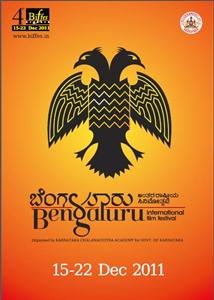 If you would like to be Volunteer in the Festival : they can participate as volunteers or partners at venues; as guides, escorts and interpreters; and in handling logistics, hospitality, promotions and publications. Write to: [email protected]

If you would like to be a partner: BFFIES seeks to involve organisations, corporates, film lovers, academics, film societies and institutions of Bengaluru as partners in organising this event. Write to: [email protected]

To download more information Bengaluru International Film Festival 2011: