Zenith Birla (India) Limited

The Yash Birla Group is an INR 30 Billion compaines which run over 20 diversified companies which run the gamut from established sectors like Auto and Engineering, Textiles and Chemicals and Power and Electricals to emerging secotrs of today like wellness and lifestyle, Education and IT..


About the Zenith Birla (India) Limited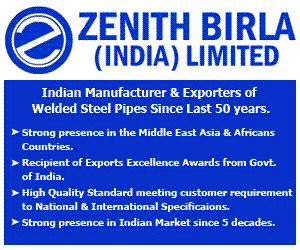 Zenith Birla(India) Limited was incorporated in the year 1960 and commenced its commerical producation in the year 1962.
ZBIL, a flagship company of the Yash Birla Group is a pioneer in manufacture and Exports of the Steel Pipes, Tubes and Hollow Sections from India.
The Company's main plant is located at the Khopoli which has a complete manufacturing and residential complex for employees with facilities of Club Hose, Guest House, Temple, School, dispensary and Auditorium.


Logo Of the Zenith Birla(India) Ltd
Financial Highlights of Zenith Birla Limited

The company recommends 20% dividend for the year 2009-2010
On the occasion of the Golden Jubilee To reward the shareholders, Company recommends 1 bonus share for every 5 held.


News about the Zenith Birla(India) Limited


Zenith Birla(India) wins 10 consecutive "Accolades" awards for exports.
zenith Birla (India) Ltd. has emerged as a winner of accolades across for 10 consecutive years. The company has excellent track record of supplying 60% of its total turnover to various continents. It is also one of the largest exporter of steel pipes to USA from India.

Zenith Birla (India) Ltd Announces 1:5 Bonus and 20% Dividend
Zenith Birla, the global supplier of steel pipes, now, maneuvers to be the global leader. It celebrates 2010 as a landmark year. The company celebrates 50 years of manufacturing, exporting steel pipes, electrical resistance welded pipes, spiral weld pipes topped with an excellent performance. The company has rewarded its shareholders with a remarkable 1 bonus share for every 5 held and a 20% dividend.

Zenith Birla(India) exports to 75 countries
With a presence across5 continents, 75 countries and one renowned brand of steel pipes. Zenith Birla India Ltd., is the largest exporter in its class of pipes to the US, and to 75 countries across the world. Today, Zenith Birla Steel Pipes has become a global brand, a synonym for trust rooted in quality.

Zenith Birla Q2 Net Profit Up 65%
Zenith Birla (India) Ltd., the flagship company of the Yash Birla Group has posted a 65 % increase in net profit at Rs.6.71 crore in the second quarter ended September 30,2008 as against Rs.4.07 crore for the corresponding quarter in the previous year.


Address of Zenith Birla (India) Limited

Zenth Birla (India) Limited
Vedant Commercial Complex,
Bldg. No S-2, 2nd Floor,
Vartak Nagar, Pokhran Road No.1,
Thane (W) 400 606

Tel 0091 22 6793 3000

E-mail [email protected]

Web Site www.zenithsteelpipes.com