Dajipur Bison Sanctuary

One of the sanctuary in the Kolhapur is and in the Maharashtra is the Dajipur Bison sanctuary who is special for the Bison....


Dajipur Bison Sanctuary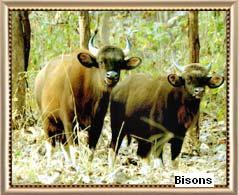 In Maharashtra, on the broder of the Kolhapur and Sindhudurg districts the Dajipur Bison Sanctuary is situated. This sancutary is known as Bison Sanctuary because Bisons are found in the large quantity. Altitute of this sanctuary is nearly 1200 meters above from sea level. Dajipur wild life sanctuary boasts of a site that is mainly craggy and hilly. Thye area of sanctuary stands with green forest. These forest contains as the above of large number of wild animals which includes Antelops, Chitals, Bears etc. This sanctuary also provides home to a extensive range of foreign birds also, There are many tourist destination are present nearby Dajipur. Radhanagari Dam's backwaters is near to this sancuatuary. Gagangiri Maharaj's Math is located.

How To Go
The nearest airport is the Belgaum.
The nearest railhead is the Kolhapur.
And Dajipur is well connected with road also with Kolhapur and near cities.