2015 Kalnirnay Calender Will Be Available Soon

Are you looking for the free 2015 Kalnirnay Calender, then this article helps you. Kalnirnay is available in seven different languages. Nowadays Kalnirnay Calender is also available on your iPhone and Android smart phones. Check out the Kalnirnay 2015 Calender details here.




If you are looking calender for 2015? Is your searching for Kalnirnay 2015 Calender. Looking for official website of Kalnirnay? Are you wanted its pdf version of Kalnirnay 2015? You want free edition or copy of calendar. How to see free Kalnirnay Calender 2015 pdf version?
These are the common question related to the Kalnirnay calendar. From this article I want to give answer of this all question.


About Kalnirnay Calender

Kalnirnay Calender provides all dates, celebrations and festivals of all religions. Mainly religions considered as Parsis, Jews, Hindu, Muslims, Chistians and all other also. Near about 1,40,00,000 Indians, who uses or purchase the Kalnirnay Calender. Kanlnirnay is available in seven different Indian languages included Marathi, English, Hindi, Gujarati, Tamil, Telugu and Kannad also. Kalnirnay also provides especial edition for UK and US.


Official Website of the Kalnirnay Calender 2015
http://www.kalnirnay.com is the official website. This website includes different sections like Home, about us, Products, Bhavishya, Panchang, Kalnitnay Premium, Media, Contact us and so on.


Kalnirnay on iPhone and Android

Now, Kalnirnay is also available in the iPhone and Android smart phones. How to get this Kalnirnay 2015 Calender on mobile apps? Just go to official website of Kalnirnay, at the homepage you can seeon the right side. You see the two blocks Kalnirnay on iPhone and Kalnirnay on Android. Choose your mobile either iPhone or Android and proceed to obtain Kalnirnay Calender 2015.


List of Kalnirnay Calender 2015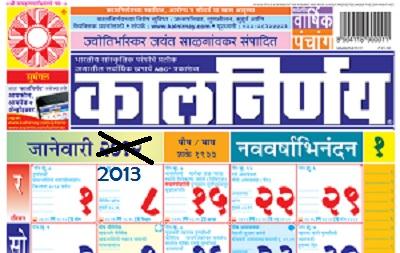 Kalnirnay Marathi Home Calmanac
Kalnirnay Hindhi Home Calmanac
Kalnirnay Gujrati Home Calmanac
Kalnirnay English Home Calmanac
Kalnirnay Tamil Home Calmanac
Kalnirnay Telugu Home Calmanac
Kalnirnay Kannad Home Calmanac
Kalnirnay Marathi Office Calmanac
Kalnirnay Marathi Office Small Calmanac
Kalnirnay Marathi Desk Calmanac
Kalnirnay Marathi Car Calmanac
Kalnirnay Hindi Desk Calmanac
Kalnirnay Hindi Car Calmanac
Kalnirnay English Office Calmanac
Kalnirnay English Office- Small
Kalnirnay English Desk Calmanac
Kalnirnay English Car Calmanac
Kalnirnay Gujarati Desk Calmanac
Kalnirnay Gujarati Car Calmanac
Above are the editions of the Kalnirnay Calender 2015.


2015 Kalnirnay Calender updates soon
Contact to Kalnirnay Office:

Sumangal Press Pvt. Ltd.,
G-8, MIDC cross road, 'A', near MIDC bus depot,
Andheri (E),
Mumbai - 4000093
Tel : +91-22-24134151
If you have any latest updates regarding the Kalnirnay 2015 Calender then update in maharashtraspider.