Khushboo Vaidya 2nd Runner Up Miss Pune 2013 And Contestant Of Femina Miss India - Wiki & Biography

Khushboo Vaidya 18 years old from Nagpur Maharashtra is a contestant of Ponds Femina Miss India 2013 and got direct entry into finals after being second runner up in Miss Pune contest. Here is the information about her personal details like family, education, facebbok and twitter account, modelling assignments and other biodatas.


Nagpur in Maharashtra is second biggest city of the state and now it is proven that apart from oranges it is highly rich in glamour and beauty as in 2013 Khushboo Vaidya after being 2nd runner up in ponds Miss Pune 2013 will be a finalist in Ponds Femina Miss India contest in 2013. Khusboo Vaidya who has just finished her schooling and entered college got a huge platform to get recognition in the fashion world and among twelve beautiful and intelligent girls of Maharashtra, she came out to be second runner up.

Khushboo Vaidya is in her teen and on the way to rock the stage of the beauty contest and is among the 23 finalist for Ponds Femina Miss India contest 2013. Having keen interest for modelling, acting and dancing this platform will certainly widen her path to enter bollywood.



Profile, Biodata and personal information of Khushboo Vaidya

Age of Khushboo Vaidya is 18 years old.

Birth Place of Khushboo Vaidya is Nagpur, Maharashtra

Address and contact details of Khushboo Vaidya - Nagpur, Maharashtra, presently living in Mumbai.

Height and Vital statistics of Khushboo Vaidya Height is 5' 8'', weight is 52 Kg and her Vital statistics (in inches): 33-25-34

Khushboo Vaidya facebook profile - http://www.facebook.com/khushboo.vaidya.5

Khushboo Vaidya twitter profile - https://twitter.com/KhushbooVaidya1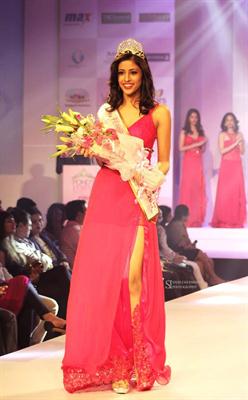 Education of Khushboo Vaidya She did her schooling from Seventh Day Adventist English High School, Nagpur and passed class 12th in 2011 and then got admitted in Hislop College, Nagpur for graduation. At present she is living at Mumbai to nourish her modelling career and preparing for this beauty event.

Family details of Khusboo Vaidya - Her father Mr. Rajendra Vaidya is working in Reliance communication at Nagpur and her mother Mohini Vaidya is a housewife and both were married on 28th March 1993. Mohit Vaidya is her brother and studying in school.

Hobbies of Khushboo Vaidya She likes acting, dancing and modelling and want to rule the glamour world.

Khushboo Vaidya favorite film stars are Hrithik Roshan and Ranbir Kapoor.

Favorite Movies of Khushboo Vaidya is Barfi.



Modelling assignments and awards of Khushboo Vaidya

Khushboo Vaidya participated in Ponds Miss Pune 2013 and was second runner up among the 12 contestants. Since she is only 18 and a bright career is waiting for her in the field of modelling and acting we will soon see her acting in movies and her talent and maturity and her keen interest for acting will take her to new heights.

Nagpur is a small city and I never expected to win at such a big event. I would like to utilise this opportunity and be a part of bigger events. This platform has helped me explore myself.

The above statement made by her shows her commitment to utilize the opportunity of being a finalist in Ponds Femina Miss India 2013 to maximum level and in future we may see her in big screen or certainly on smaller screen.