Appu Ghar Amusement Park Pune, Maharashtra - Location, entry fee and other details

Are you searching for amusement parks in Pune? If yes, you must visit the Appu Ghar Nigdi in Pune city of Maharashtra state, India. Read this article to know more about this amusement park regarding its location, contact address and timings, attractions, entry fees, Email id, telephone and many more.


Appu Ghar Amusement Park in Pune

Appu Ghar amusement park is located in Nigdi, Pune city of Maharashtra state, India. This is the first amusement park of Pune city that was inaugurated in the year 19th November 1984. As we all know adults as well as children are interested to visit these amusement parks. The fact is that those parks provide an enjoyable moment for the people. So from this point we can say that people of Pune are lucky to visit an amusement park located in the centre of the city itself. I think majority of the people may have visited this park. But the interesting fact is that those people who have visited this park once in their life time may also be waiting for another vacation so that they will have a happier moment in this park.


Do you know how this amusement park got the name Appu Ghar? The actual meaning of Appu Ghar is Appu's house. More correctly I will say that Appu was the name of an elephant in the 1982 Asian games that was hosted in our capital city, New Delhi. In those days Appu was popular among the people of world especially children. That's the reason why this amusement park was named so. Anyway those who have not visited this park may be planning a trip in future after reading this article. I know most of you are in a curiosity to know the importance of this first amusement park of our Pune city. Don't waste your time and start reading from the next point itself.


Location of Appu Ghar, Pune

By reading this title, some of you may be thinking since this is a famous amusement park in Pune, you are able to locate the location very easily. But let me tell you one thing. When we are going to search a particular thing in place / city/ town or whatever it is, we give prior importance to the correct address. As we all know that if we know the correct address, we can reach that place very easily. It won't waste your time also. So for your convenience I am providing the address of Appu Ghar Pune.

Appu Ghar,
No 23,
Pradhikaram Sector,
Indira Gandhi Udyan,
Nigdi, Pune- 411044
Maharashtra state, India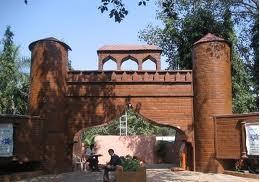 If you have any doubts regarding the location or events in Appu Ghar Pune, you have to contact the following person.
Contact person of Appu Ghar Pune: Satish Kamble
Tel: 9860977137 / 9890886666 / 9850841414
Email id: [email protected]
Official website of Appu Ghar Pune: www.appugharpune.com

One important fact you should keep in mind is regarding the timings and entry fees of this amusement park.
Appu Ghar Pune timings: 12:00 Noon - 8:00 PM

There are different packages provided by this Appu Ghar amusement park for the visitors. Go through the details given below and select the convenient one for you.
http://appugharpune.com/individual-rides.html
http://appugharpune.com/school-packages.html
http://appugharpune.com/corporate-packages.html


Appu Ghar amusement park attractions

Appu Ghar Pune is an amusement park that provides you a water park, party lawn and lots of fun fairs for kids as well as parents. There are different rides, merry-go-rounds, huge spinners, gigantic roller coasters, artificial hill, lakes and many more. Some rides are meant exclusively for children as well as aged citizens. So without doubt I can say that you will have an enjoyable time in this amusement park.