Karla Caves Lonavala, Pune - Location, Entry Fees, How To Reach And Other Details

Are you interested to see the Karla caves located in India? If yes, then you must visit the Maharashtra state in India where Karla caves are located. In this article you will get more information on Karla caves including the timings and fees, location and many more. Read this article to know more about Karla Caves before you plan the trip.


Karla Caves Maharashtra

In India we can see different types of historical caves. When compared to south Indian states, majority of the north Indian states have ancient caves. Buddhist rock caves of Ajanta and Ellora are familiar among the people. In Pune you are also able to see the famous Bedsa Caves. We Indians should be proud of the fact that we are able to see as well as gather some information about the ancient caves located in our country. I know some people may be asking a question like what's the interesting matter in a cave. I am sure after reading this article related to Karla caves, soon most of you may be planning a trip to see it. There you will find the interesting fact regarding a cave. So don't hesitate and read the rest of this article to get more information about Karla caves.


The location of Karla caves is at Karli, a small town near Lonavala in Maharashtra state of India. When considering Mumbai, remember that Karla caves are located at a distance 114km away in Western Ghats. If you try to go to Karla caves from Pune, it's easy for you as the caves are located only at a distance of 40km from Pune. Whenever you get a chance to visit this Karla caves, don't miss it as these caves represent the golden period of Buddhism in India. In these caves, you are not able to see any images of Lord Buddha; instead you will see only symbolic descriptions. The 3 important hill stations of Maharashtra namely the Lonavala, Matheran and Khandala are located very close to these ancient caves. Once Karla caves was the place for pilgrimage for Buddhists from all over the world.


Karla caves in Lonavala

When we hear the word Karla caves, the first point that comes to our mind is regarding a Buddhist cave. Before planning a trip to Karla caves, you must read this article to know the major attractions of Karla caves. Karla caves major attractions include chaitya hall, incredible architecture of sculptures and pillars, rooftop made of teak wood, pillars with 4 lions on the top, rock-cut sculptures etc. Another important feature of this Karla caves are the stone stupa that is placed under an umbrella and carved with figures of elephants, men and women. But a major attraction is the 37 pillars chiseled with figures of prosperous men as well as women on elephants, and bowing before Lord Buddha.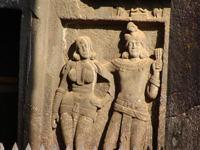 You can see all these attractions at the Karla caves. It should be noted that these caves were primarily a Buddhist monastery, but the oldest was built around 160 BC. Apart from all this attractions, the main cave is the chaitya or the prayer hall, which is carved with great precision. Also you can see the viharas or the dwellings, which means the place where wandering monks used to stay. When you visit Karla caves, you will be able to see the arched entrances as well as vaulted interiors. Moreover you will be introduced into a centuries old cave. This natural cave is cool during summer and cozy in winter.

Karla caves entry fees: For Indians above 15 years : Rs 10 per head
For foreigners above 15 years: US $5 or Rs 250
Karla caves timings: 09:00 AM- 5:30 PM


How to reach Karla caves?

After reading this article, I know most of you are in a curiosity to know how we can reach Karla caves very easily. So I am providing you some information which will be convenient for you.



By road:
You have to remember that Karla caves are located between the cities of Pune and Mumbai. From Mumbai and Pune, this ancient cave is located at a distance of 120 km and 55 km respectively. Buses plying between these cities go via Karla only. You can also use private vehicles or if you are having a keen interest in driving, you can drive your own vehicle


By air:
Karla does not have an airport but the nearest airports are Mumbai and Pune


By rail:
The local Malavli railway station is in Bhaja village, which is located at a distance of 5km south of Karla town. Karla railway station is located very close to these caves