Review of Classic Sholay 3D Movie - A Treat of Visual Effects in 3D

Decades ago Ramesh Sippy's all time hit and conquering film "Sholay" was released. For those who saw it back when it released (1975), it is a full refreshment, and for those who have only seen in DVD or 2D vision, this is your chance to experience a genuine, panoramic wide screen, and how riveting a story.SO watch the Sholay in its 3D version.


Review of Classic Sholay 3D movie a treat of visual effects in its 3rd dimension

Directed: Ramesh Sippy
Starring: Dharmendra, Amitabh Bachchan, Sanjeev Kumar, Hema Malini, Jaya Bhaduri and Amjad Khan
Viewers Rating: ****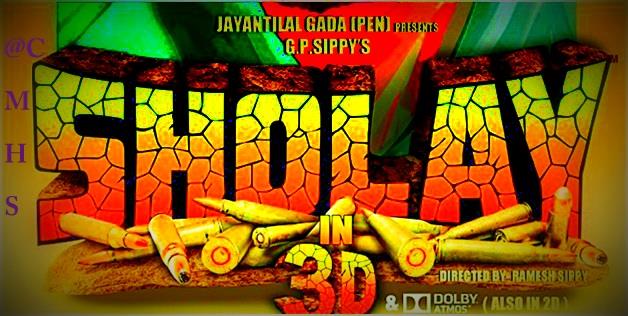 This film has huge and excellent star cast, nicely performed action sequence, very powerful dialogues and super duper hit music. Sholay is also a protuberant film because of the people took part in this. One of the finest works Salim-Javed, the greatest writer duo India has known has done. RD Burman's music, Dwarka Divecha's cinematography, MS Shinde's editing and Ram Yedekar's production design continue to remain a class apart.

But still the 3D experience entertains and heightens the joy and thrill of the action sequences in movie. In 3D you feel the bullet almost hitting you in your face when Sanjeev Kumar (Thakur) shoots a bullet at the handcuff that binds Jai (Amitabh Bachchan) and Veeru (Dharmendra).

The Holi fight sequence and the chase sequence of Basanti's tonga by the bandits makes joyful to watch in 3D. Watching Gabbar in a 3D avatar is amazingly delightful. His wickedness, the swinging of his belt, suddenly shooting Kaaliya, his expressions…everything enhances by leaps and bounds.
Critics feel that this film was very much better in its original format than its 3D version. Though it has sharp and clear color correction, the added dimensions does not add any significant value in watching an iconic experience of Hindi cinema.

For people who have not seen the movie before, they might just miss the movie's essence, and for people who have seen the movie before, they might not like the new feel to their blockbuster old Sholay.

Along with the release of Indian blockbuster film Sholay there were many news about its copyright and a case was also run against Ramesh Sippy's nephew Shaan Uttamsingh and others but a division bench of the Bombay High Court has dismissed an appeal filed by Ramesh Sippy claiming to be the owner of the copyright. He claimed his nephew Shaan Uttamsingh and others were guilty of infringement of his copyright by trying to make a 3D version of Sholay.

Famous musician R.D.Burman composed the songs of the film Sholay. The effect of 3D is felt only sometimes in whole movie like when bullets, other missiles flew to the audience.But all these not gives the immense last natural panoramic impression.

Basanti, inn kutton ke saamne mat naachna or Chal Dhanno, aaj teri Basanti ki izzat ka sawaal hain these lines were not only catchy today also but it also still strike a chord of heart.

Sholay did not want this review.This film is now also capable of generating income at box office because people correlate with this film. Now also watching movie in 3D brings different dimension to unforgettable scenes, dialogues and characters. AK Hangal's Imam Sahab and Leela Mishra's mausi will also unforgettable characters in Sholay 3D.

This film collects gross amount of 6 crore in just three days after its release. So go to film to feel Sholay 3D.