Tiruppur Kumaran - The famous freedom fighter of Tamil Nadu

The state Tamil Nadu has many freedom fighters and they played major role in the Indian Independence movement. Many of them gave their breath and life to the country to get freedom. Tiruppur Kumaran is famous personality who struggled for the freedom of India and he gave his breath and life for the freedom. This article gives you the full details and contribution of Tiruppur Kumaran for the Indian freedom.


The birth and profile Tiruppur Kumaran

OKSR Kumaraswamy Mudaliar who was a famous freedom fighter in Tamil Nadu and he was born on 04-10-1904 in the small down named as Chennimalai in Tiruppur District of Tamil Nadu.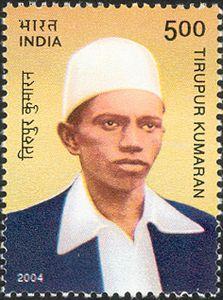 He was popularly known as Tiruppur Kumaran. He involved himself in the Indian freedom movement in his young age and he participated in many struggles in the Indian freedom movement.


The role of Tiruppur Kumaran in Indian freedom movement

Tiruppur Kumaran had played a major vital role in the Indian freedom movement. He started "Desa Bandhu Youth Association" by grouping the youths and young persons from Tamilnadu to struggle against the British government to get freedom. Many persons got inspire and involved in the freedom struggle with Tiruppur Kumaran. He conducted many protest march against the British government in many places of Tamil Nadu. He got more inspiration from the father our Nation Mahatma Gandhi. He followed the procedures and methods which was suggested by Gandhiji in the Indian freedom movement. Tiruppur Kumaran had also participated in Congress movement from the Tiruppur's contribution.


The honors which was given to Tiruppur Kumaran

The Tamil Nadu people are always remembering the contribution of Tiruppur Kumaran for the freedom of India by conducting various functions and programmes by the name of Tiruppur Kumaran. A memorial statue for Tiruppur Kumaran was erected in the park which is very near to Tiruppur Railway station. There is a street by his name which is called as "Kumaran Salai". There is also a college in his name in Tiruppur and it is called as "Tiruppur Kumaran College". The Government of India had released a commemorative stamp in his name on October 2004 during the 100th birth anniversary of Tiruppur Kumaran. Get to know more about Freedom fighters from Tamilnadu here!


The ending days of Tiruppur Kumaran

The great and famous freedom fighter of Tamil Nadu, Tiruppur Kumaran died on 11th January, 1932. His dead was very cruel that the Police assaulted him during the protest against the British colonial government. He was so patriotic that he died by holding the National flag of India which was banned by the British government. He is also called as "Kodi Kaththa Kumaran" due to this incident.