Tamil Recipe to make Gopi Manchurian

Gopi Manchurian is very nice side dish to Fried Rice, Brinji Rice and Gee Rice. Now am going to explain how to prepare Gopi Manchurian at home. This is very easy to prepare only 30 minutes to prepare. No need to go for restaurants to taste Gopi Manchurian.


Ingredients to prepare Gopi Manchurian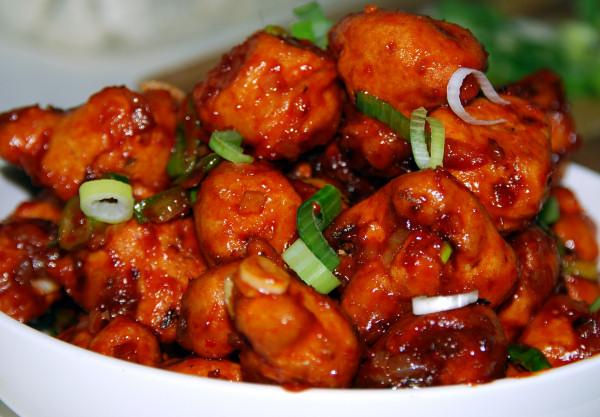 1. Cauliflower -1
2. Chicken65 Powder – 3 table spoon
3. Corn Flour Powder – 2 Table Spoon
4. Onion – 2
5. Tomato – 2
6. Capsicum – 1
7. Tomato sauce - 2 table spoon
8. Coriander Leaf
9. Oil to fry
10. Salt to taste


How to prepare Gopi Manchurian

1. Cut cauliflower and put it in to boiled water for 5 minutes
2. Cut onion, Tomato and Capsicum (long pieces)
3. Take boiled Cauliflower in a bowl and add Chicken 65 Powder, Corn Flour Powder Salt little bit and make masala. Leave this for 5 minutes. You can keep this in frizzier also (for crispy)
4. Heat a pan to fry Cauliflower with masala. Deep fry will give more taste to cauliflower. Keep these fried cauliflowers away.
5. Mean time, heats a pan to fry onion, once the onion turned to brown, add tomato and capsicum one by one. Add some salt while frying onion for quick process.
6. Add fried cauliflowers in to this gravy. Finally add some Tomato Sauce in to that gravy for taste.
7. Decorate your Gopi Manchurian with Coriander Leaf, Onion and Tomato pieces.
8. Tasty Gopi Manchurian is ready to serve
Note : You can add Soya Sauce, for better taste.