What will be the best Valentine's Day Gifts for Him

When it comes to choosing a gift for your man for any occasion, you have to think a lot. It is not easy to choose the gift for men and especially when it is Valentine's Day you need to be careful of what you are buying as the motive behind gifting is to show him how much he means to you.


The resource has not been reviewed by Editors yet. Readers are advised to use their best judgement before accessing this resource.
This resource will be reviewed shortly.
If you think this resource contain inappropriate content, please report to
webmaster
.
Well, for years women are gifting ties, shirts, perfumes and many other common things to their husband or boyfriend in this occasion, but how many years you will go for these tried and tested things. There is one more option that you can gift him and make the extra special. It is Jewelry.

Although men are not much fond of jewelry, there are some trendy but elegant options available that your man will love the most. So, let's have a look at the options that can be a great gift for him.

1. Bracelets- Most of the men, love to wear various types of bracelets. If your man is one of them, you have so many options to choose from. The bracelet can be a simple one or the threaded one or the one with charms attached to it. Make the selection after taking an idea about what he likes. If he is the person, who loves to wear formal flaunting a simple look, gift him a simple chain bracelet. If he is the stylish one wearing jeans and half sleeve tees all the time, charms bracelet can be a creative choice. You can also get the personalised charms attached to the bracelets making it one of the most romantic Valentine's Day gifts for him.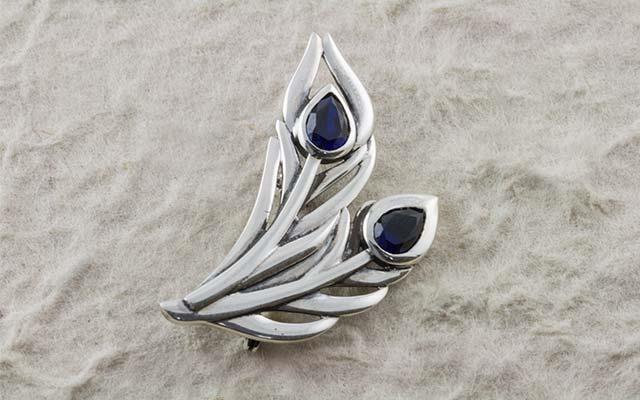 2. Tie him with your love- But, not with the tie. If your boy always wears a tie, Valentine's Day will be a great opportunity for you to give his attire a touch of style. Gift him with a set of beautiful cufflinks or tie pins. Whenever he has a look at them, they will remind him of you and your deep love. If loves to wear the blazers. You can gift him with various types of brooches. These sparkling brooches will help you maintain the spark of your love for long.

3. Rings- If you search for online Valentine's gifts for him, you will find various types of rings in the collections of online jewellery stores. You can select the one with the design suitable to your love story. If he is a spiritual person, you can select designs like Trishul, Ganesha and many others. The couple rings with heart designs can also be the best choice for the occasion. You have an option of selecting the rings with your initials engraved on it.

4. Studs, charms and neckpieces- If your boy loves to wear those, jewelry stores have a variety of designs of studs. Silver studs can look great with his casual attire. Similarly, if he loves to wear neckpieces, you can gift him a heart-shaped pendant with chain. Different types of charms including customised, spiritual and trendy can also be one of the nicest gifts for him.

Now, when you have got the ideas about what will actually, we a great valentines gifts for your husband or boyfriend on Valentine's Day, don't go for the traditional choices this year. Get the ideas about which type of jewellery he will love to wear and choose the jewelry gift accordingly.