Avro Keyboard, a virtual Bengali Keyboard

Avro Keyboard is a free Unicode complaint Bengali keyboard compatible with Windows 2000, XP, Vista, Linux and Ubuntu. Learn how to download Bangla Avro Key Board.


Bangla Avro Keyboard: Free Bengali Key Board Software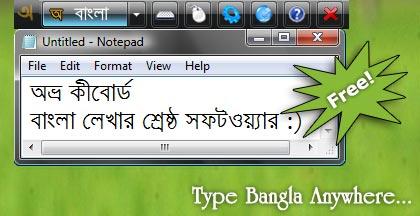 What is Avro Keyboard: Avro Keyboard was initially developed by a Bangladeshi medical student Mehdi Hasan Khan in 2003. This unique software allows users to type Bengali as well as Assamese through its romanized transliteration.

Features of Avro Keyboard: Avro software has many unique features like -

- Specially built English to Bengali transliteration software supports most modern English to Bangla phonetic typing method.

- The Software supports traditional keyboard layout based Bangla typing. With the help of Avaro several traditional keyboard layouts such as Bornona, Avro easy, UniBijoy and Jatiya can be used.

- Mouse based Bangla typing allows users to type just by clicking the character symbols.

- Avro software also supports Assamese language.

- The software also features spell check, auto correction and grammar check.

- Avro's flexible interface allows users to type only in Bangla despite the active language in the system.

- Customizable Mode Switching allows users to switch between Bangla keyboard mode and System Keyboard mode.

- Avro's special detection system allows users to type in the correct language.

- Built-in Bengali dictionary for automatic spell correction.

- Avro keyboard also allows users to mail and chat in Bangla without installing any plug-ins.

- Avro has also an online community to discuss about the product and other issues related to the software.


Is Bengali Avro Keyboard good?: Avro has been certified as 100% clean from any malacious virus by softpedia, brothersoft, unicode and cnet. So you can say it is obviously good.


How to download Bengali Avro Keyboard?

Avro keyboard can be downloaded from the official website of Avro which is located at

http://www.omicronlab.com/avro-keyboard.html