Informations about Midnapore, West Bengal

Midnapore is a town located in Werst Bengal located in the the Midnapore district of West Bengal. It is famous for the historical monuments over there and is also known as a place of pilgrimage. The place is named after the name Medinimata. Read this article to know more about this place.


Midnapore, as a tourist destination

Midnapore is a prominent tourist destination for the people of Bengal. The place shares its boundary with Orissa in the South and Jharkhand in the West. The name of the district is after Medinimata, which is a local deity in this region and is popular among the pilgrims. The place is mostly visited by people to know more about the history of India and from this place one can gather information about the India's freedom struggle. There are many historical monuments from which we can collect information about many freedom fighters here. Many freedom fighters lost their life here during wars and there are many monuments here dedicated to these people.


Places to see at Midnapore

Midnapore, as a place of pilgrimage. Midnapore is highly famous in West Bengal as well as some other near by states due to the presence of so many temples in Midnapore. The most famous temple is The Jaggannath temple in Midnapore is located at the Nutar Bazar is very famous among pilgrims.
The important temples to visit in Midnapore are The Hannuman temple in Mirabazar, the Sitala temple located in Barabazar and the Habibpur Kali Maa temple.


There is also one more most important temple in Midnapore and that is the Rukmini Temple. This temple is very old and was build on the 17th century and it is a interesting site to visit at Midnapore.

Other important things to see at Midnapore are :
John Pierce Tomb.

Kurambera Fort.

Dharmaraj Temple.

Temples of Bandyopadhyay Family.

Sitala Temples.

Navratna Temple Complex.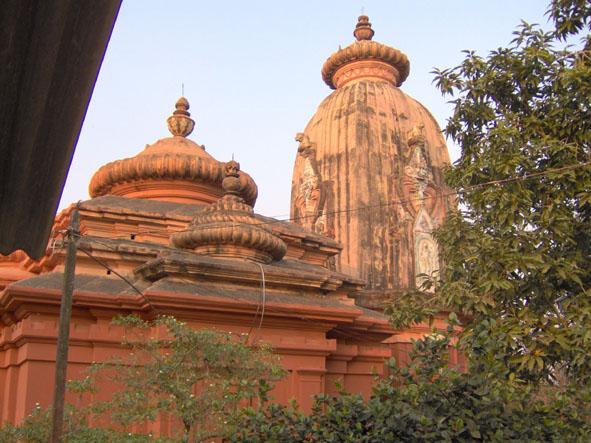 How to reach Midnapore


Midnapore town is at a distance from :
Kolkata 126 km.
Howrah 129 km.
Ranchi 270 km.
Visakhapatnam 779 km.
Kanpur 955 km.
Vijayawada 1129 km.
Nagpur 1132 km.
Aligarh 1263 km
Delhi 1395 km
Chennai 1559 km

Midnapore by air - To reach Midnapore by air, the nearest airport is at Kolkata which is about 130 km away from the town. From this town you can opt for a bus, taxi or a train.

Midnapore by train - There is a major railway station at Midnapore. This is an important railway stations with many active trains and is well connected to all other towns of Bengal as well as other states too. Travelling by train is the cheapest and most convenient one.

You can also reach Midnapore by Bus or taxis. There is a good bus service available for Midnapore and one can also get taxis to Midnapore from Kolkata or cabs for hire.



Weather at Midnapore


The basic season here are the summers, winters and the monsoons.
The summers at Midnapore experiences a temperature from 20 degree Celsius to 38 degree Celsius. The summers are extend from March to June at Midnapore.

The Monsoons at Midnapore is from the month of July to September and most of th rainfall in Midnapore is experienced during these months.

The best time to visit Midnapore are the winters, which is from December to February and the temperature falls to 10 degree Celsius during these times.


Where to stay at Midnapore?


Hotels in Midnapore - Hotel Ritz is one of the most important hotels at Midnapore. It is just five minutes walking distance from the railway station of Midnapore and there are many times of rooms available. Luxurious air conditioned rooms are also there n this hotel.


Address:
Hotel Ritz Bengal
Near Midnapur Station, Midnapur Station Road, Midnapur