Nabanita Deb Sen, Eminent Writer and Former Professor Of Jadavpur University

Nabanita Dev Sen, eminent writer and a versatile lady having all sort of intellectual qualities. Mother of actress Nandana Dev Sen, ex-wife of Shri Amartya Sen, nobel prize winner. She is retired from Jadavpur University as Professor of Comparative Literature.


NAME: NABANITA DEV SEN

BORN: January 13, 1938

She was born in Kolkata in a cultural family. Her parents were both poet. Other than Bengali and English, she knows many regional languages. Moreover she knows foreign languages i.e. French and Hebrew. Presently, she lives in Kolkata. She has two daughters Antara and Nandana. Her ex-husband is famous economist as well as Nobel Laureate Amartya Sen.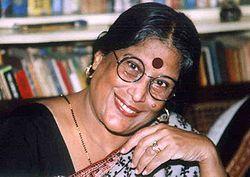 Education: Graduated from Presidency College and Mastered from Jadavpur University, Kolkata. She also did higher studies from Harvard University with distinction, earned Ph.D from Indiana University. She completed her post-doctoral research from University of California at Berkeley as well as Newnham College, Cambridge University.

Career: There is a place known as Yaddo in United States, where artists work together. The environment is friendly for their art work. You can call this as cultural conference and these are known as residential colonie. For that you need to apply and get approved. She was attached in residential colonie of Yaddo. Similarly, she attended residential colonie of MacDowell, Bellaggio, and Mishkenot Sha'ananim. All those are popularly known as residential colonie for creative persons.

As visiting professor and creative writer she attended at several Universities worldwide. One of her memorable work as visiting professor was lectures in Radhakrishnan Memorial series at Oxford University on epic poetry.

In 1988-1989, she bagged the chair of Creative Writing and Comparative Literature at Colorado College. She also became Vice President of Indian National Comparative Literature Association.

Several times she was Member of Jury of important literary awards i.e. Jnanpith, Saraswati Samman, Kabir Samman, and Rabindra Puraskar.

She is a retired Professor of Jadavpur University, Comparative Literature department, and now she is Vice President of the Bangiya Sahitya Parishad and founder president of West Bengal Women Writer's Association.

Honors and Awards Received: She is awarded Padma Shri as well as Sahitya Akademi Award other than her several achievements.

Published Book: She has published many books in Bengali of different genres. She is also famous for writing travelogues. Her short stories are always unique. Her first published book was a collection of poems, Pratham Pratyay in 1959. Her first novel came in 1976 in the puja issue of the Ananda Bazar Patrika, named 'Ami Anupam'.