Payal Sarkar Bengali Actress Biography

Payal Sarkar is a rising Bengali Tollywood Celebrity equally well known among the top Indian TV actress who becomes a household name because of her TV serials. Read here to know more about Payal Sarkar Biography and about her Bengali film career and her awards and achievements.


Payal Sarkar Bengali Actress Biography
Biography of Payal Sarkar

The pretty Bengali and Television actress Payal Sarkar hails from the Lively City Kolkata. She was born on 10th of February 1984. Payal Sarkar had her college education from the Jadavpur University in Kolkata in the year 2004, and acquired a graduation degree in History. She was the cover page model in a famous Bengali magazine Unish-Kuri. Payal Sarkar's dream holiday spot is Switzerland and Payal Sarkar's hobbies is that she loves to read books on her leisure time, watching TV and shopping. Read more about to learn about the most talented Bengali Actress Payal Sarkar Profile.


Payal Sarkar Personal Profile
Nick Name of Payal Sarkar: Piu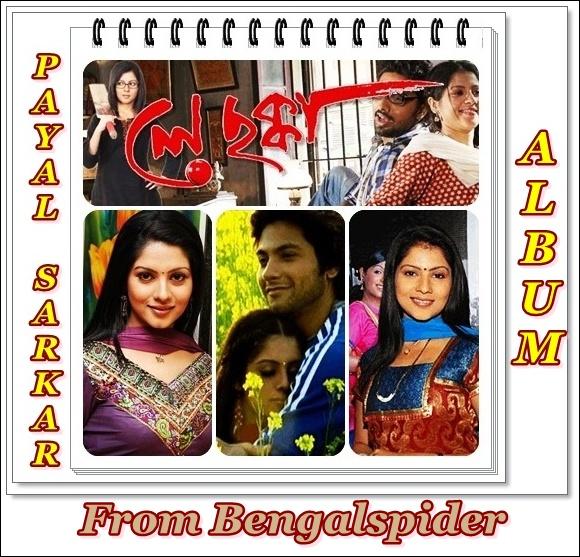 Payal Sarkar Date of Birth: Feb 10, 1984

Zodiac Sign of Payal Sarkar: Taurus

Payal Sarkar Address: Kolkata, India.

Payal Sarkar Hometown: Kolkata

Payal Sarkar School: Pratt Memorial

Father of Payal Sarkar: Ashok Kumar Sarkar

Mother of Payal Sarkar: Konica Sarkar

Sister of Payal Sarkar: Sohel Sarkar

Payal Sarkar College Education: Jadavpore University (History graduate)

Favorite Dish of Payal Sarkar: Chinese, Thai

Favorite Food of Payal: She loves chocolates

Favourite Bollywood Actor of Payal: Shahrukh Khan

Favourite Bollywood Actress of Payal: Kajol, Sonam Kapoor

Favourite Hollywood actor of Payal: Brad Pitt.

Favourite Hollywood actress of Payal: Julia Roberts and Angelina Jolie

Favourite cartoon character of Payal: Tom and Jerry
Payal Sarkar Television and Film Career

While Payal was on her first year of college, she was doing some telefilms by Sudeshna Roy and the Bengali actress Payal Sarkar's debut movie is 'Bibar'(2006) directed by Subrata Sen. She became popular through the bengali film 'I Love You' directed by Ravi Kinagi which is a romantic movie where she played the heroine role opposite to Dev. Payal's acting in 'I Love You' drew the attention of renowned filmmaker Anurag Basu. Anurag Basu offered her the role of Shruti in his TV Serial titled 'Love Story'. The rise in the career of Payal Sarkar took place when she performed on the role of Shruti and she became a household name after the TV Serial 'Love Story'. This was the first venture on TV Career of Payal Sarkar and after that she didn't need to look back. The journey of payal continued and she got succeded in each and every venture she took.


Payal Sarkar's TV Serials

Payal's first TV show is 'Love Story' by Anurag Basu(Sab TV - 2007) where she played the role of shruti, 'Waqt Batayega Kaun Apna Kaun Paraya' (2008) which is aired on Sony TV on which she performed on the role of Rudra, 'Shakuntala'(2009) a fairytale about Shakuntala and King Dushyanta. In this she performed as Raj Kumari Gauri. This serial was aired on Starone. 'Ladies Special'(2009) on Sony TV is all about the story of four ladies who travel by Ladies special suburban train in Mumbai. In this serial Payal Sarkar performs as Pooja Singh.


Films by Payal Sarkar

Apart from Payal Sarkar TV serials, Payal Sarkar Tollywood films are many in number and the most talented glamorous actress has won the hearts of thousands of people in Bengal. Bengali films by Payal Sarkar includes 'Bibar'(2006), 'Shudhu Tumi'(2006), 'I Love You'(2007), 'Cross Connection'(2009), 'Prem Amar'(2009), 'Le Chakka'(2010), 'Gole Male Gole Male Pirit Karo Na'(2010) and she has also enacted in 'FM - Fun Aur Masti'(2007), a Payal Sarkar Hindi film.


Awards Won by Payal Sarkar

Payal Sarkar talented actress of Bengali film industry has won Anondolok Award 2010 and more of Payal Sarkar Awards and achievements is yet to come up and make a visit here again to get to know more details on her.