Howrah Bridge, The quality creation of Kolkata

India ia country of sculpture. There are something advanced that not less then sculpture. Among the India's eyecatching creation by human being, there comes Howrah bridge-India's most beautiful and advanced creation by the civil engineers. people from all over India come here to witness this. West Bengal feel proud to have such a suspension bridge which connect the twin city Howrah to Kolkata. This is a bridge of fraternity, always attracts visitor.There is something more below...


Howrah Bridge of Kolkata: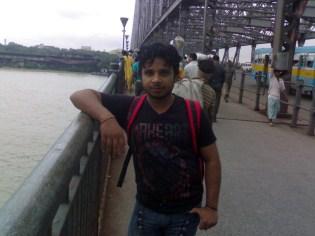 Generally called as Rabindra setu, Howrah bridge is Constructed in 1939. It is the first cantilever suspension bridge which carries the maximum vehicular load every week. It is constructed over the river Hoogly. The bridge is 705 in length and 97 feet wide. For this bridge the twin city Howrah and Kolkata is connected to develope their strategy. The 270 ft high bridge was opened to traffic in 1943. The bridge is toll-free and is close to Howrah station. There is an interesting history that due to some technical reasons, a portion of the bridge was made in England and shipped to Calcutta.

The great cyclone in 20 March 1874 gave a small destroy to this bridge. From 19th August, 1879, the eight-lane bridge was fixed electric poles at the centre. Photography is strictly prohibited from the middle of Hoogly river from where the beauty of this bridge looks attractive. This 69yrs old age is still holding good. The first bridge Rabindra setu connects to Burrabazar of Kolkata and the second bridge named Vidyasagar Setu connects south Howrah to the Kolkata Maidan. At night this bridge gives its best scenario with lighting. The bridge is not only famous for its heavy technologocal structure but also as a boon of India traffic. The famous Victoria memorial in 1921 is placed near the Howrah bridge.