Rabindranath Tagore 150th Birth Anniversary celebrations and projects India and abroad

What are the celebrations and events to mark Tagore's 150th birth anniversary in India and abroad? This article gives complete information on the Govt. of India and Bangladesh joint collaboration to celebrate Tagore's 150th birth anniversary and the various programs & projects initiated for it.


Poet & musician, painter and playright - Rabindranath Tagore was a highly talented personality. It was his poetic endeavour Gitanjali which got him into the international spotlight & earned for him the Nobel Prize for Literature. In fact, Tagore was the very first individual from outside Europe to be honoured with this prestigious award.

In honour of Tagore & to commemorate the 150th birth anniversary of this great personality from West Bengal, a number of celebrations are underway in the country & abroad. In addition, a variety of projects are being initiated by the Govt. of India and other organisations.

First off is the joint celebration between India & Bangladesh to celebrate the 150th birth anniversary of Rabindranath Tagore. Yesterday, Prime Minister Sheikh Hasina of Bangladesh launched a 3 day program by handing over a replica of the famous "Padma Boat" in which Tagore travelled to Bangladesh, to Indian Vice President M. Hamid Ansari. 4 commemorative stamps were also released and there will be a special train called Sonar Tori between Dhaka and Kolkata.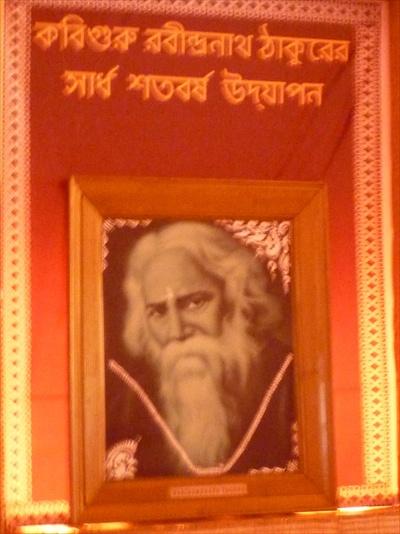 In India, the program was inaugrated by Prime Minister Manmohan Singh today. A digital collection of Tagores' paintings, titled the Rabindra Chitravali, was released. The Prime Minsiter announced that Government of India has instituted a prestigious International Award, in the name of Rabindranath Tagore, to recognize distinguished contributions towards the promotion of international brotherhood and fraternity. A jury headed by the Prime Minister will annually select an individual who is of outstanding public eminence & epitomizes the universal ideals of Tagore. The first award is likely to be announced at the end of the commemoration year.

Further, the Jadavpur University has taken up a project to create an online electronic edition of the works of Tagore in Bengali & English.

Dakshinee, a reputed music academy in Kolkata, has collaborated with the famous writing-instruments manufacturer Mont Blanc to showcase Tagore's works through more than 20 dance and music programs in the city all year round.

An organisation named Rabindra Sahitya Natyayan has been established to dramatize Tagore's works, including poems and short stories. This will be a joint venture between India and Bangladesh and the project will be supported by the International Theatre Institute, UNESCO-affiliated institute which promotes theatre as a means to give a platform for cultural exchanges between countries & thereby promoge world peace. A theater workshop over 10 days will be organised in June for play writers at Shantiniketan.

International commemorations of Tagore's 150 birth anniversary
In Poland, the Bengali department of Warsaw University, headed by Elisabeth Walter, has translated into Polish a collection of Tagore's poems, letters, short stories and essays and, along with some of his paintings, have created an anthology. One of Tagore's most famous plays Post Office, has been included in this anthology which has an introduction by none other than Nobel laureate Amartya Sen. This project was financed by the Indo-Polish Chamber of Commerce and Industry (IPCCI).

Sri Lanka today issued a postage stamp in honour of Rabindranath Tagore. The stamp is priced at LKR 5. It has Tagore's image and his name in 3 languages - English, Sinhala and Tamil.